Windscribe Free VPN — When you want to equip yourself with a VPN, the most practical and accessible solution is to opt for a free VPN service like Windscribe. In addition to paid subscriptions, this VPN offers a subscription for 0 euros. That said, is it a good idea to use it? Do free VPNs like Windscribe work well? Do they offer the same level of online security?
This is what we are going to discover by taking a close look at the free offers as well as the paid offers from Windscribe to be able to compare them and guide you.
A free offer to test Windscribe VPN
Windscribe offers a free service (called Windscribe Free) to Internet users who want to use a VPN without paying or upgrading to a paid version later.
On its free plan, Windscribe protects user connections by encrypting and masking their IP address. It also offers ad blockers, firewalls, and tracker blockers. So far, it's been very satisfying.
Unfortunately, like all other free enclosures, it limits access to certain features, such as the number of servers available. Windscribe Free supplies only 10 countries including: Canada, United Kingdom, Hong Kong, United States, France, Switzerland, Norway, Germany, Netherlands and Romania.
That seems pretty low when you consider that number can go up to 94 countries with other VPNs. However, this may be suitable for some Internet users who need to be targeted in very specific places. However, keep in mind that you will not be able to get an IP address outside of the countries listed above. you will therefore not be able to settle anywhere in the world.
Note that you can customize the free plan if you need additional geolocation. Windscribe charges an additional location fee of just $1.
The biggest weakness of the free version of Windscribe VPN is its monthly bandwidth limit of 10 GB. Beyond that, your connection will be blocked and you will no longer be able to use your VPN. Let's say 10 GB of data is quite fast, especially during daily internet use. Let's not talk about streaming and downloading activity.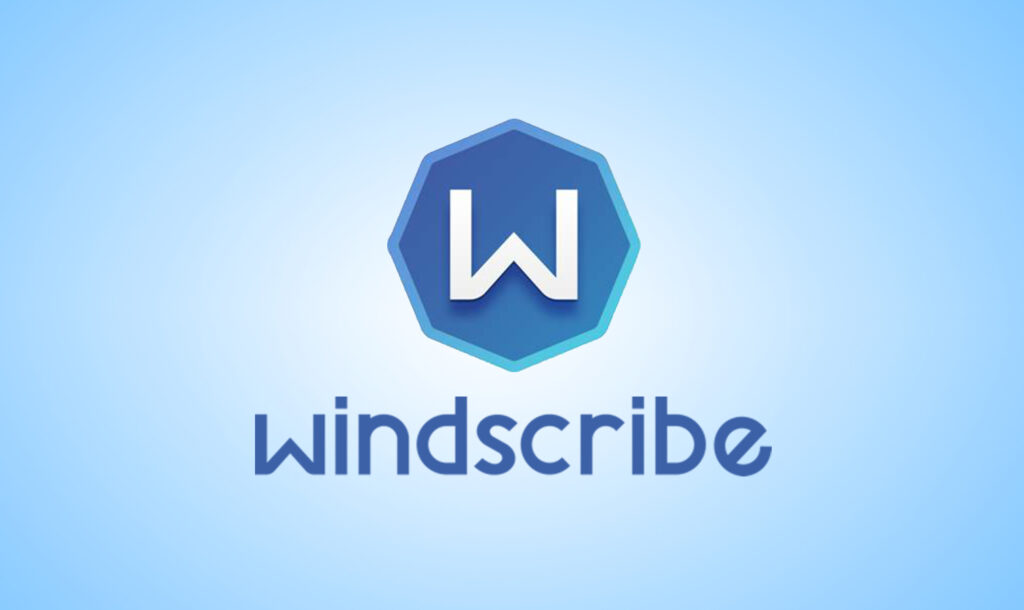 Try the free version of Windscribe
A fairly advantageous paid formula
If Windscribe's free offerings don't meet your needs, it's only natural to check out their paid Windscribe Pro offerings. In fact, Windscribe also offers an upgrade to the Pro version at any time as long as you pay.
Windscribe's price isn't steep, but it's also not the cheapest you'll find. Here are the two options available to you: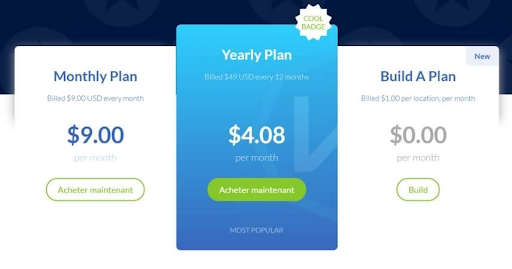 Please note that your purchase is only guaranteed for 3 days. It's very brief but also understandable because the provider thinks you've had enough time to test their service for free beforehand.
Paid VPNs give you more locations than the free version. From now on, you will have access to 63 countries and 110 locations, which is already fun. On the other hand, it does not communicate on its number of servers, which is not necessarily a good sign.
With Windscribe Pro, your bandwidth is unlimited. However, we found very slow connections in our Windscribe VPN tests and reviews. This greatly reduces our connection. In addition, VPN disconnections are frequent. There are two possible explanations for this phenomenon: Windscribe has very few servers, so it saturates quickly, and the software load on the servers is not properly optimized.
Finally, paid Windscribe VPN options are not necessarily the right ones. At this price, there are better VPN providers that offer faster connections, more comprehensive services, and greater reliability.
Getting Started and Features
Getting started with Windscribe is easy. In this part of our Windscribe review dedicated to the software, we will explain how to do it and approach its main features.
Install and use Windscribe VPN
To get started, all you need to do is visit the supplier's official page. You will then find a "Download Windscribe" button in the center of the screen. When you click on it, all you have to do is select the operating system on which you want to download the application, and the download will start automatically on your device.
Once done, simply click on Windscribe in the download bar to install the VPN. The process only takes a few seconds, then you can activate the VPN and create an account for free. If you want to upgrade to the paid version, just click on "Upgrade" in the Windscribe space.
As soon as you open Windscribe, you will find that its interface is very clear and intuitive, which is a good point. To activate or deactivate the VPN, you just have to click on the On/Off button.
Again, to choose your location, simply click on the location of your choice in the lower half of the VPN window. More advanced settings for the VPN and your account can be accessed by clicking on the three lines in the upper left corner of the same window.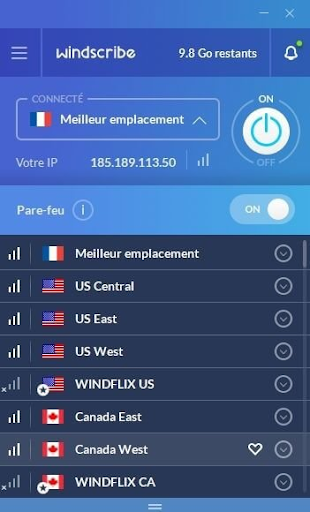 As you can see, getting started with Windscribe is quick and easy, earning the software our positive review.
ROBERT
One of the other options that Windscribe gives you is a tool called ROBERT. The latter is designed to block ads and malware in a totally personalized way. It also allows you to adjust what you want to block or not in a fairly thorough way.
For example, you can protect your children by blocking all widespread pornography on the web. This customization reduces the risk of contracting a virus, but also allows you to browse faster.
If this option is an interesting element, we regret that it is only available by paying. Therefore, our view on this issue is nuanced.
Static IP Address
Another Windscribe feature worth noting for is the ability to have a static IP address. In fact, the IP addresses assigned by VPNs change and having a static IP address can help you access certain services or content regularly.
These IP addresses can be in the form of data center IP addresses (such as those of a VPN) or residential IP addresses (such as those assigned by your ISP).
However, even if this option is interesting, it should not be confused with the possibility of having a dedicated IP address. In fact, dedicated IP addresses are unique to you, while static IP addresses are shared.
Windscribe does not offer dedicated IP addresses, which lowers our opinion on this, as this option is in high demand. It should also be noted that there are charges for static IP addresses.
Discover : Hola VPN: Everything You Need to Know About This Free VPN
Port forwarding
Windscribe offers you a very advantageous port forwarding option. This feature allows you to remotely access your computer's services through a VPN. This includes several advantages: your connection will be protected, your IP address will not be exposed and you will be able to access your services from anywhere.
However, this access is through a specific IP address, and to take advantage of it, you need to purchase a static IP address from Windscribe (which we just covered earlier in this Windscribe review). Therefore, this option is paid, which slightly reduces our respect for it.
Split tunneling
We want to introduce you to the last of Windscribe's features in this review: split tunneling. This option includes choosing which applications should go through the VPN and which should not. So you can browse multiple apps (or websites) at the same time, some through the VPN tunnel and some not.
While this feature is very popular, it is currently only available in the Windscribe Android app. This therefore excludes a large number of users and possibilities, which is very unfortunate. Our view on this issue is negative, as he communicated this at a time when this feature was actually rarely available.
Testing connection speed with Windscribe
For the rest of the Windscribe VPN test, we will focus on the speeds (downloads) it can give you. This element is very important when choosing a VPN and should be considered carefully.
Speed ​​test with a nearby server
To get a first taste of what Windscribe can offer you in terms of browsing speed, we first tested this configuration on one of the best possible servers nearby. The test takes place in two stages.
First, we tested our connection without VPN in order to understand the basic characteristics of the latter in order to compare them with future results. Next, we start Windscribe by connecting to the server labeled "Best Location". It should give better results.
The results obtained from these two tests are as follows: without VPN (left), and with VPN (right).

As you can see, some connection settings have changed, some haven't. For example, the uplink speed remained the same, with a score of 0,7 Mbps. However, the page load latency ping went from 17ms to 38ms, which is not a significant difference.
On the other hand, the download rate (your download size) went from 7,2 Mbps to 3,3 Mbps. This reduction can slow you down by more than 50%, which can only cause your connection speed to change. So far, our opinions of Windscribe's connection speeds have been mixed.
Speed ​​test with a remote server
After getting results on a nearby server, we wanted to test the connection provided by Windscribe on a server further away. So we performed the same test, but this time connecting to an American server.
The results obtained have been placed next to our initial results for ease of comparison. You will find them in the image below.

In light of these results, several observations can be made. First of all, the ping, which changed only slightly during the first test, was more affected this time, going from 17ms to 169ms. The upload speed, unchanged during the first test, dropped slightly (from 0,7 Mbps to 0,6 Mbps), although this does not seem significant.
Finally, download speeds, already negatively affected in the first test, are even more severe here. It actually went from 7,2 Mbps to 2,8 Mbps, which resulted in a performance drop of over 60%. As such, our fairly average vision of the connection speeds offered by Windscribe is confirmed.
Security with Windscribe
Security and anonymity
As we said at the beginning of this Windscribe review, the security that a VPN provides is based on two things: encryption of browsing data and masking of IP addresses.
Privacy Policy
In Windscribe's privacy policy it is stated that this data is deleted when you log out, but this remains a bit dubious in practice. Our opinion on this question is therefore fairly average.
Obviously, this VPN is not really the most interesting in terms of service and offer. If your expectations are not met, we can recommend other VPNs such as ExpressVPN, SpeedVPN,…
Conclusion: our opinion on Windscribe
Read also: NordVPN Free Trial: How to Test the NordVPN 30 days demo in 2022? & Mozilla VPN: Discover the new VPN designed by Firefox
We are there, you have completed our full Windscribe VPN test. As you may have noticed, our overall impression of the software isn't that bad.
Indeed, if Windscribe offers a free quote, which is a good point, it is very limited. Similarly, even if the main security parameters offered by a VPN are satisfactory, its privacy policy presents some mistrust.
We also noticed that the Windscribe app is easy to use. However, the large number of flaws that we noticed almost made us forget about this positive. Among these flaws, we can recall that Windscribe is very slow in terms of speed (upload and download), affecting your streaming and downloading experience.