TunnelBear VPN free — VPNs may seem like complicated technology, crammed with low-level technical details that almost no one understands, but check out the TunnelBear website and you'll quickly realize that this service does things differently.
The Canadian company, owned by McAfee, doesn't drown you in jargon. It doesn't talk about protocols, doesn't mention types of encryption, and hardly uses any technical terms. Instead, the site focuses on the fundamentals, making it clear why you want to use a VPN in the first place.
TunnelBear Overview
TunnelBear is a public VPN service based in Toronto, Canada. It was created by Daniel Kaldor and Ryan Dochuk in 2011. In March 2018, TunnelBear was acquired by McAfee.
TunnelBear is the world's easiest-to-use VPN (virtual private network) for individuals and teams alike. A VPN (Virtual Private Network) creates a private network that you can use by encrypting your connection, even when using a public network.
TunnelBear works by allowing you to connect through an encrypted tunnel to locations around the world. Once connected, your real IP address remains hidden and you can browse the web as if you were physically located in the country you are connected to.
TunnelBear can be used to protect your privacy, hide your real IP address, bypass internet censorship, and experience the internet like people in other countries do.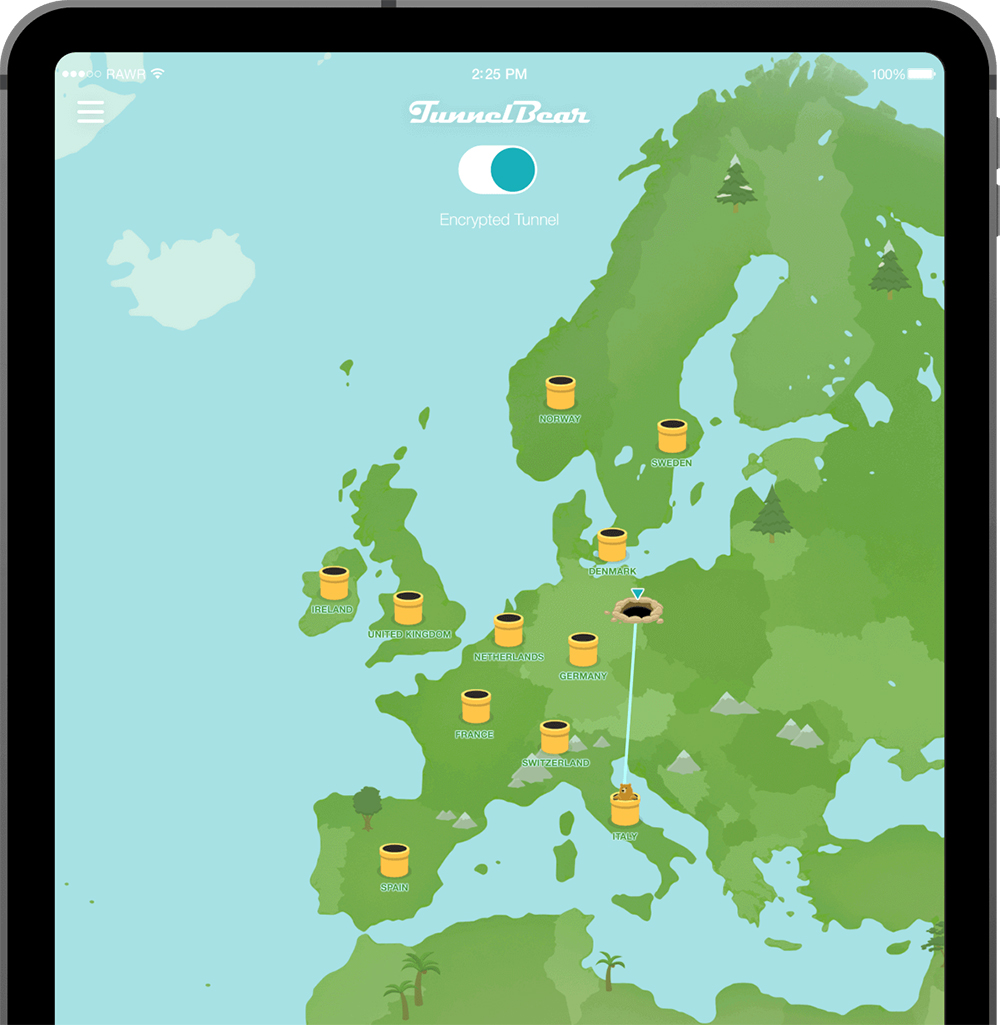 Functionalities
A free TunnelBear client is available on Android, Windows, macOS, and iOS. It also has browser extensions for Google Chrome and Opera. It is also possible to configure Linux distributions to use TunnelBear.
Like other public VPN services, TunnelBear has the ability to bypass content blocking in most countries.
All TunnelBear clients use AES-256 encryption, except the client for iOS 8 and earlier, which uses AES-128. When logged in, the user's real IP address will not be visible to visited websites. Instead, websites and/or computers will be able to see the spoofed IP address provided by the service.
TunnelBear was one of the first consumer VPNs to conduct and publish the results of an independent security audit. The company logs when its users log on to the service and publishes annual reports on the number of times law enforcement has requested user information.
TunnelBear VPN has its own browser extensions. However, Blocker is an entirely separate tool, installable only on Chrome browsers. You don't even need an account to use it. Once added, it will display the number of trackers it has stopped.
Tunnelbear Free VPN has obfuscated GhostBear servers that use special algorithms to make your traffic look like normal non-VPN traffic. It helps you bypass blocks and get unlimited internet access.
TunnelBear has almost doubled the number of its servers and now has 49 countries. This collection covers the essentials and has expanded to encompass more of South America and Africa, two continents frequently overlooked by other VPN companies.
TunnelBear on video
TunnelBear prices and offers
TunnelBear is one of the few services we reviewed that offers truly free VPN service. TunnelBear's free tier only limits you to 500MB of data per month, however. You can earn more data by tweeting about the company, which can increase your limit to a total of 1,5 GB for a month. You can repeat this process every month to receive the bonus. Paid options are also available:
Free: 500 MB/month
Unlimited: $3.33/month
Teams: $5.75/user/month
Available on…
Application for Windows
App for macOS
Android Application
iPhone app
macOS app
Extension for Google Chrome
Extension for Opera
Linux integration
alternatives
Speed ​​VPN
NordVPN
Opinion & Verdict
This VPN is perfect for occasional use. Indeed, its free version only allows a volume of data exchanged of 500 MB (a tweet about the service can get you an additional 500 MB).
Here we appreciate the possibility of choosing your server from around thirty regions spread around the world (half of which are in Europe). TunnelBear is very user-friendly and the service does not keep connection logs.
Although TunnelBear's official stance is to not endorse unblocking streaming services, it seems to work, and I was able to unblock most media platforms I tried.