Top online music sites Free and without limits: There are plenty of sites and online services for listen to music free of charge, and without the limitations or advertising imposed in free access by major music platforms. Whatever your tastes, you should find what you are looking for in our selection.
Here is the list of top best sites to listen to music online for free and unlimited.
tubes : Free unlimited online music
You can perform searches via the field provided for this purpose at the top of the interface. Or let yourself be guided by the categories offered by the site, via the entries on the left. But for this second option, you will have to register (for free), via your Facebook account or by creating an account with your email address. With its free music library and design, Tubeats is one of the best on our list of Best Sites to Listen to Music Online for Free and Without Limits.

bandcamp : Independent artists
Presenting itself as an online store, specialist in "indie" music, Bandcamp nonetheless offers a number of titles for free listening. If you are generous, nothing prevents you from supporting independent artists who exhibit their works to the ears of music lovers. To get off the beaten track and make discoveries.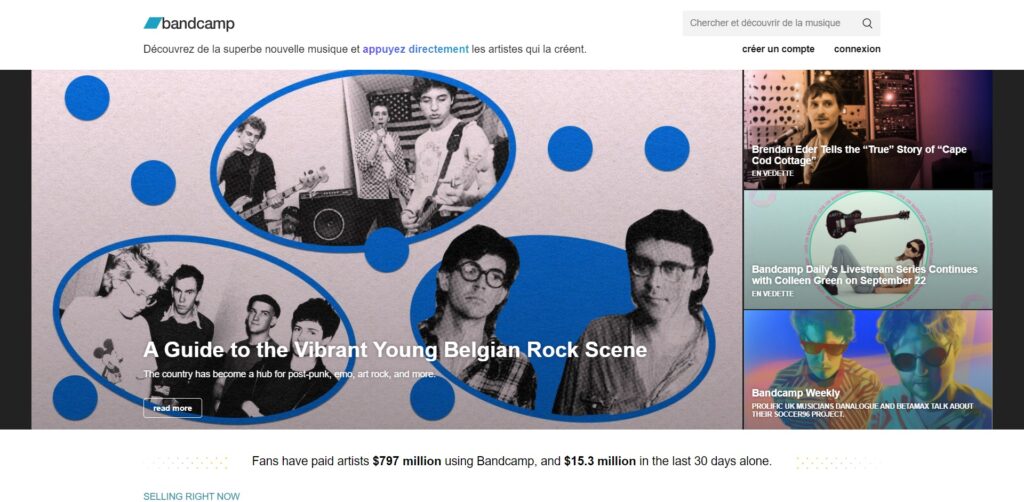 Stream Squid : Top 50 Online Music For Free
A good site modeled on NoiseQ and Tubeats, with the ability to manage playlists, mark artists or songs as favorites, and browse through a selection of hot artists. Do you want to know what we listen to in Sweden, Belgium, France or Israel? With the Top 50 countries (Charts), you will know it!
Also see: 18 Best Free Music Download Sites Without Registration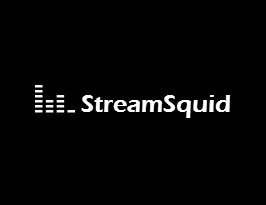 An interactive map invites you to discover the history of Metal music and its subgenres with sometimes wacky names. You click on a period, the site then blows you the iconic songs and iconic artists, which you can listen to for free. To fill your ears while cultivating yourself.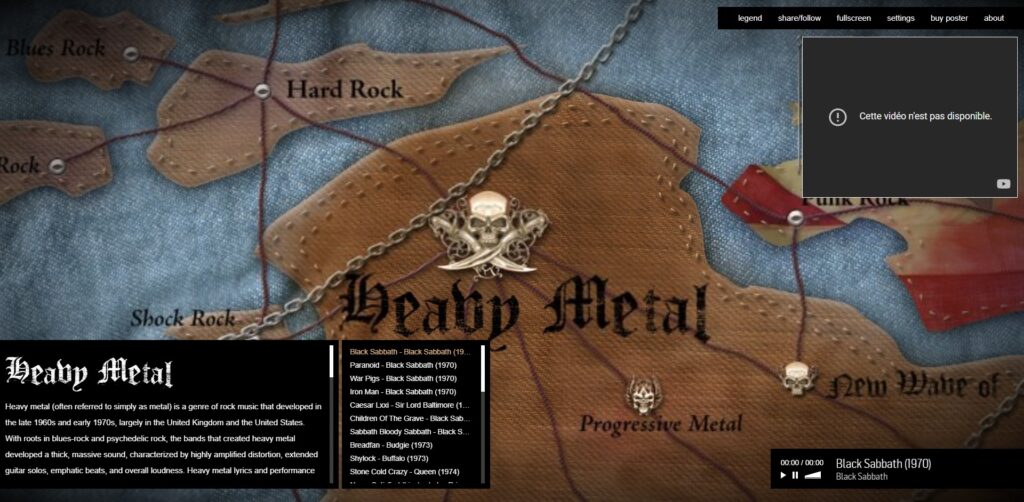 Youzeek : Music from YouTube
Youzeek is certainly the most ergonomic of the services aggregating the musical contents of YouTube. Here, you take advantage of the suggestions made by the service (based on the popularity of the tracks, your mood…) or you search for the tracks directly. Then it's up to you to put together your own playlists.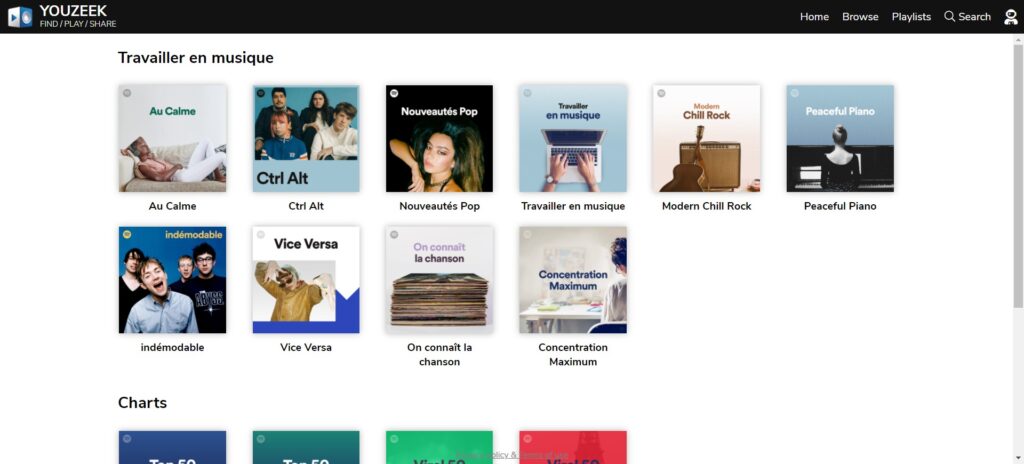 Read also : 25 Best Free Vostfr and Original Streaming Sites
This Free Online Music site offers millions of tracks on Spotify that have never been played. Forgotify offers you samples, at random, accompanied by a link to Spotify to listen to them in full. This requires having an account on this platform, but no need to be a subscriber. For the adventurous, ready to listen to soup to find pearls.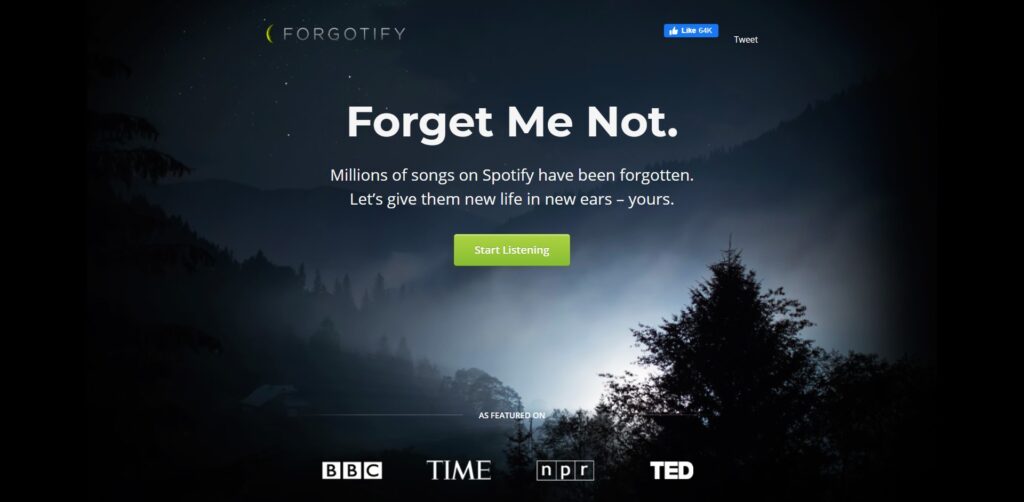 openwhyd : Free online music and share playlists
On this service, everyone is free to share their tastes through shared playlists. You draw from the catalog of major platforms (YouTube, SoundCloud, Deezer…) to constitute the ultimate list of songs. All genres are represented: jazz, rock, punk, rap… It's up to you to highlight those you like by building your own public playlists.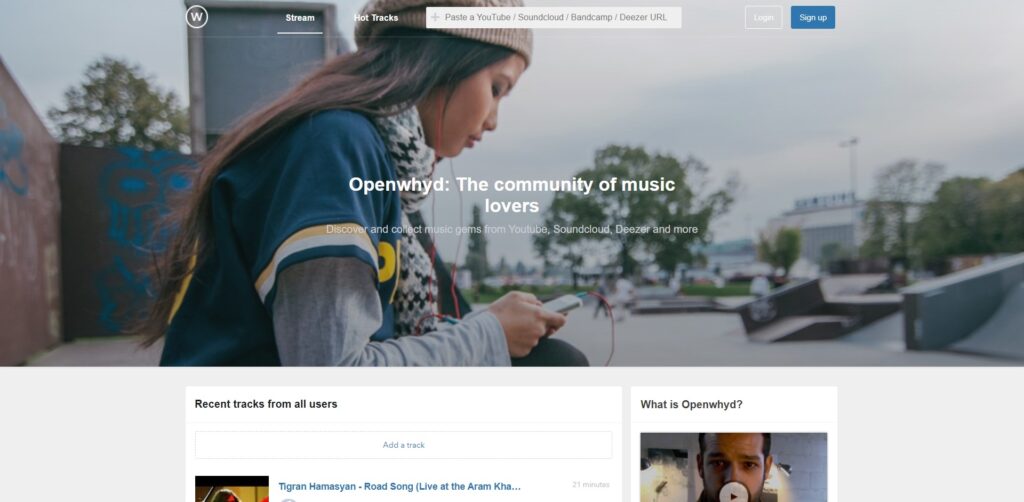 The site to find music from your favorite movies and series. Click on the magnifying glass at the top to do your research. Tunefind does not stream music directly, but returns you links allowing you to access the songs. Choose Spotify (registration required) or YouTube links for free music listening.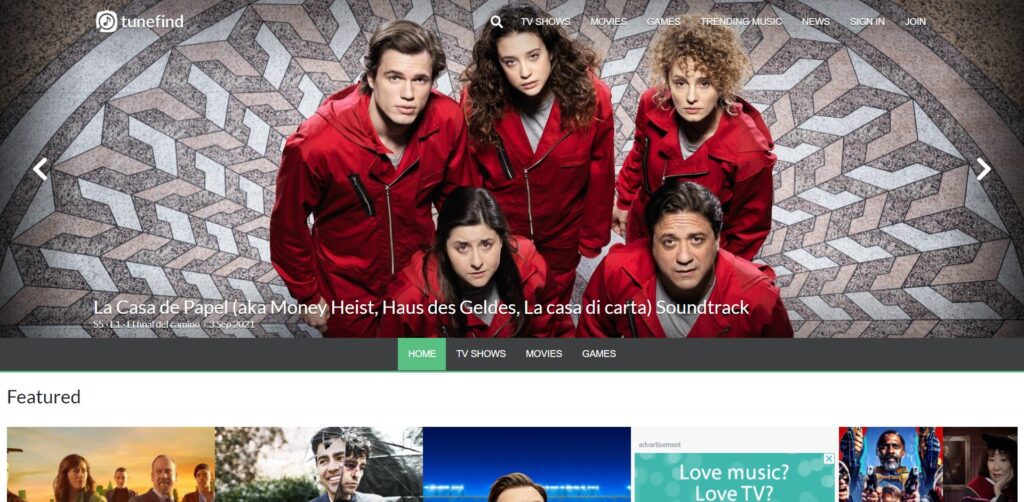 Read also : 50 Best Sites to Listen to Live Radio on PC
Want to know (and listen to) the most popular music on YouTube? Go to YouTube Charts. You can also type in the name of an artist, observe their progress over the past year, and find out what their most popular songs are. To stay up to date!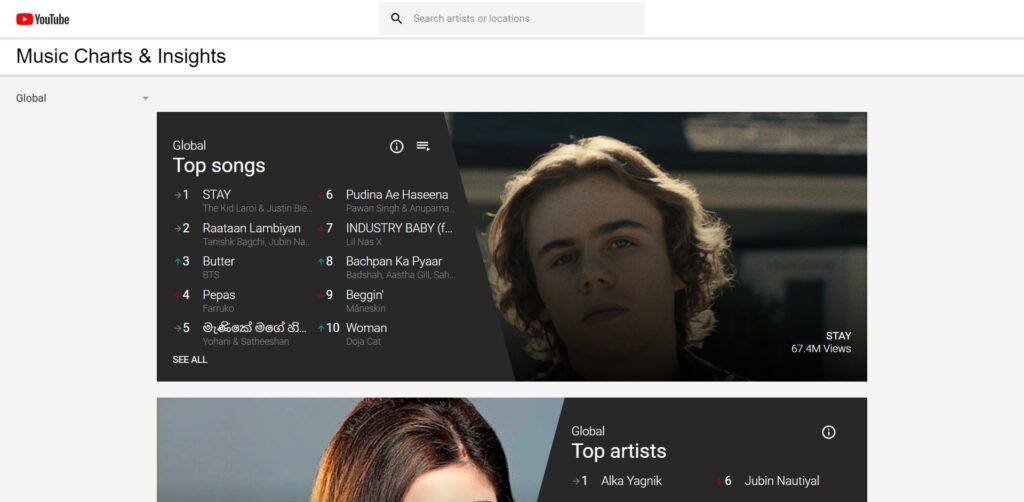 SoundCloud : The alternative to free online music
Alternative to Spotify, Deezer and other Google Play Music, SoundCloud tries to monetize its services, but continues to offer a nice free offer. On this service, you will find everything from tenors of the majors to independent artists. Registration is recommended if you want to put aside your favorites.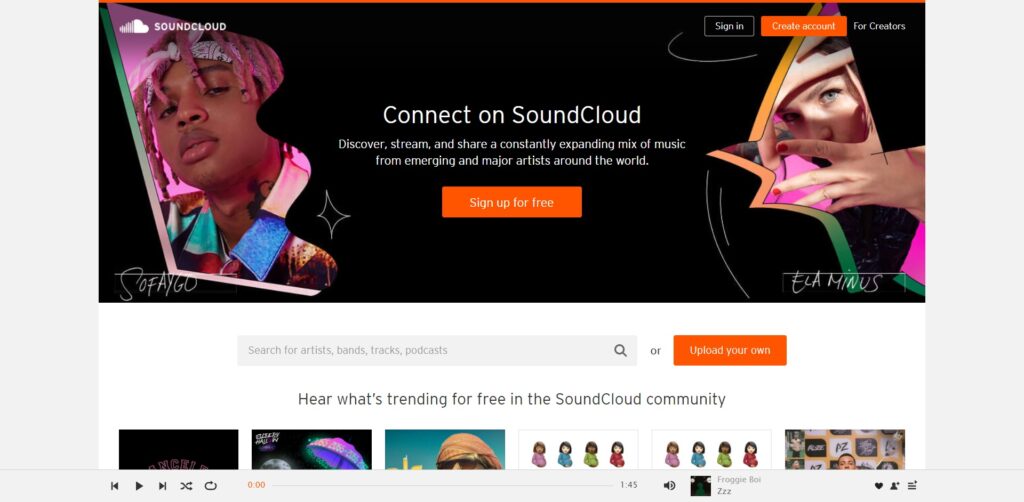 YouTube Music : Free online music, easily
YouTube is one of the most popular platforms for listening to music. However, the application is ill-suited to audiophiles: it is indeed impossible to listen to songs with your phone screen off, videos eat up your data, and it is difficult to create a playlist.
YouTube Music Premium corrects these shortcomings with its mobile application, which also makes videos available for offline listening. The application also offers many playlists and connects music and videos without ads.
The free version - called YouTube Music, quite simply - is a kind of in-between that allows you to create lists and add videos to your library, but it has the same limitations as YouTube compared to the screen. off, downloads and the display of advertising messages, for example.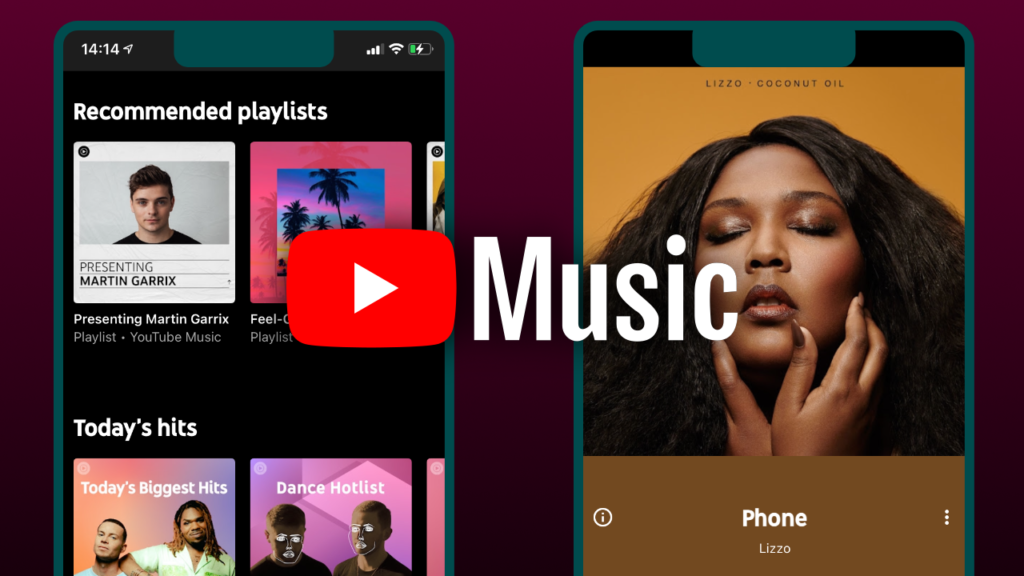 Read also : 10 Best Sites to Watch Replay TV for Free & Top - 10 Best Sites to Download YouTube Videos without Software for Free
YouTube Premium, for its part, offers all the advantages of YouTube Music Premium, in addition to removing advertising from the usual version of YouTube and giving access to exclusive series and films.
Nuclear : Download and listen to music online for free and unlimited
Instead of paying to listen to music without limitations and without ads, why not take advantage of an audio player giving access to a number of titles for free? Try Nuclear.
All paid audio streaming services are the same. They offer more or less the same catalog, at the same price, and for the monthly subscription, you create your own playlists, you listen to your artists unlimited, and you get rid of the advertising.
There are many services of the same ilk, but free. Nuclear is one of them. From this software, you build your music library by drawing songs or complete albums from different sources, certainly less rich than the big platforms, but still well supplied.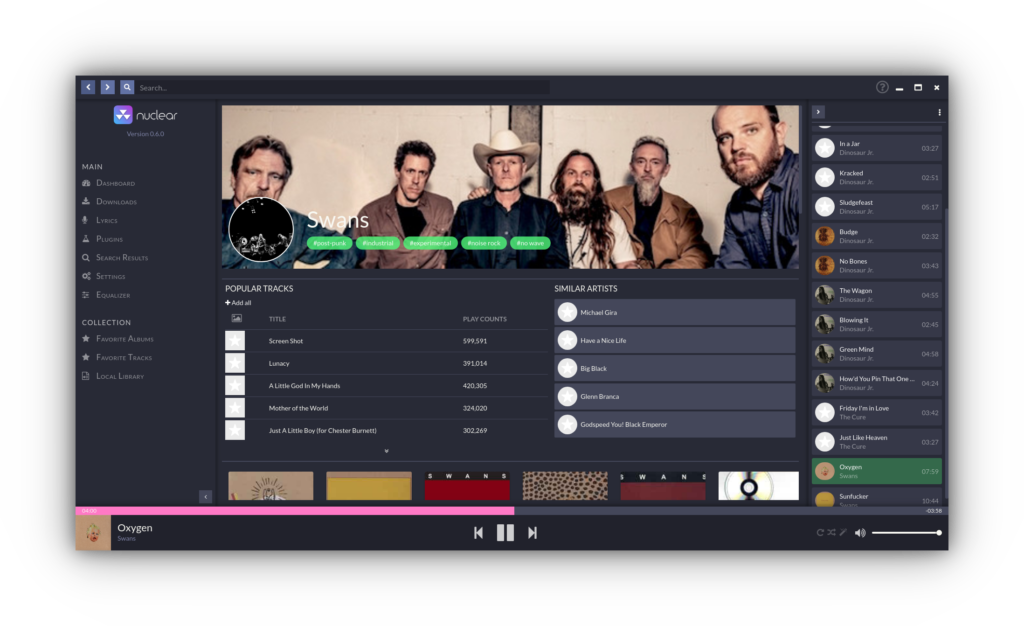 To read : 10 Best Free Streaming Apps to Watch Movies & Series (Android & Iphone)
Finally, if you are a music fan, you can listen to your favorite tracks and music tracks for free through these free online music streaming sites. You can, once registered on these platforms, download songs, discover new singers, share songs and playlists, ...
If you know of other Free Online Music addresses and services, please write to us in the comments section, and don't forget to share the article!