Best Free Youtube MP3 Converters in 2023: When it comes to YouTube, we all know it is the biggest video sharing platform to watch and download videos for free. It hosts all kinds of videos that cater to the tastes of different viewers.
Music fans are also regular users of YouTube for the amount of famous music videos that are still available there.
Convert YouTube Videos to MP3 you allows listening to music from offline video, whenever you want, or turn your favorite YouTube channel into a podcast you can listen to while working.
Keep in mind that you should only download content if you have permission from the copyright owner. YouTube Terms of Service explicitly prohibit unauthorized downloading.
Converting YouTube videos to MP3 format can seem tricky and few sites offer this service for free and efficiently, but we have put the list of five together. Best Free & Fast Youtube MP3 Converters which make the operation easier.
List of the Best Free & Fast Youtube MP3 Converters (2023 Edition)
Youtube MP3 converters
YouTube has more music than most websites, but you can't listen to it outside of the YouTube app. At least, not without spending money on YouTube Premium. Sometimes it is just more convenient to convert YouTube videos to MP3 files online.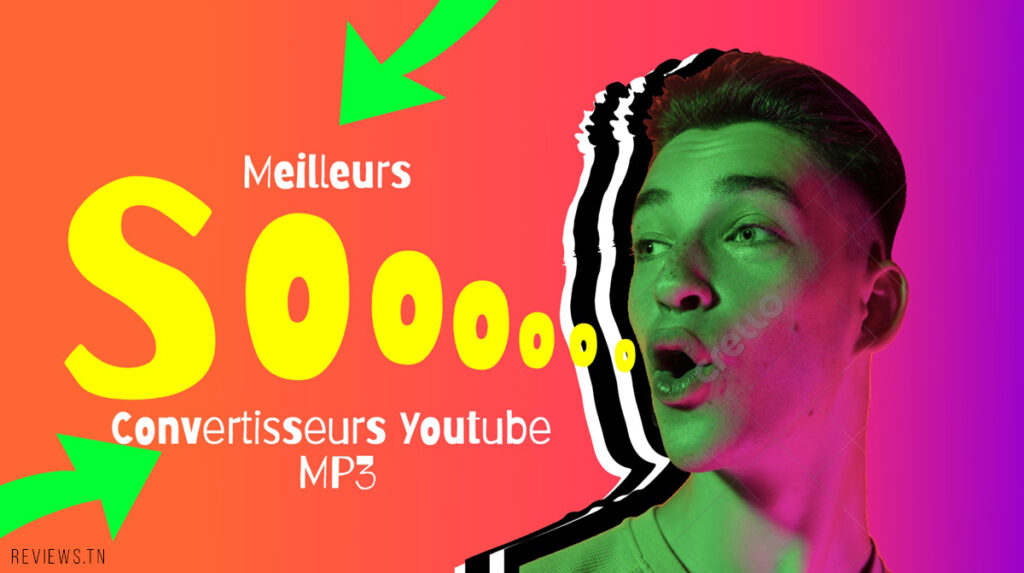 Unfortunately, most of the free YouTube to mp3 converters that appear in Google searches are full of spammy pop-ups. Some even require you to download converter software, which is not ideal.
In response to this wave of converters, we have compiled a list of top five YouTube to mp3 converters which are free, easy to use and really online that is, they don't require the use of any software. external.
Read also : How do I watch a whole movie on YouTube? & Canon 5D Mark III: Test, Information, Comparison and Price
Warning : This article is written for informational purposes only. Before you start downloading a YouTube video, make sure that it is authorized by the creator or owner of the video. Before you start downloading your favorite videos, please read YouTube terms of service.
How it works
Most apps for converting YouTube to mp3 are very easy to use, all you have to do is enter the link of one of the supported streaming sites and click on the Next button.
Visitors can choose from the many video formats available, the selected video file will be grabbed and turned into a free download in any format you need.
Most free YouTube converters offer several output formats: WMA lossy, Apple AAC, DivX, and MP3. The converting speed with YouTube mp3 converters is determined by the size of the chosen file.
To put it simply, YouTube Mp3 converters usually offer a platform that will allow you to convert YouTube videos to audio format i.e. MP3. You can convert the videos by just entering the URL of the YouTube video and clicking the button as the video convert command. In 2 or 3 simple steps you will get the MP3 file.
In the following part, you will find the list of the best Youtube MP3 converter sites.
List updated in April 2023

Writing Reviews.tn
Best Free and Fast Youtube MP3 Converter Services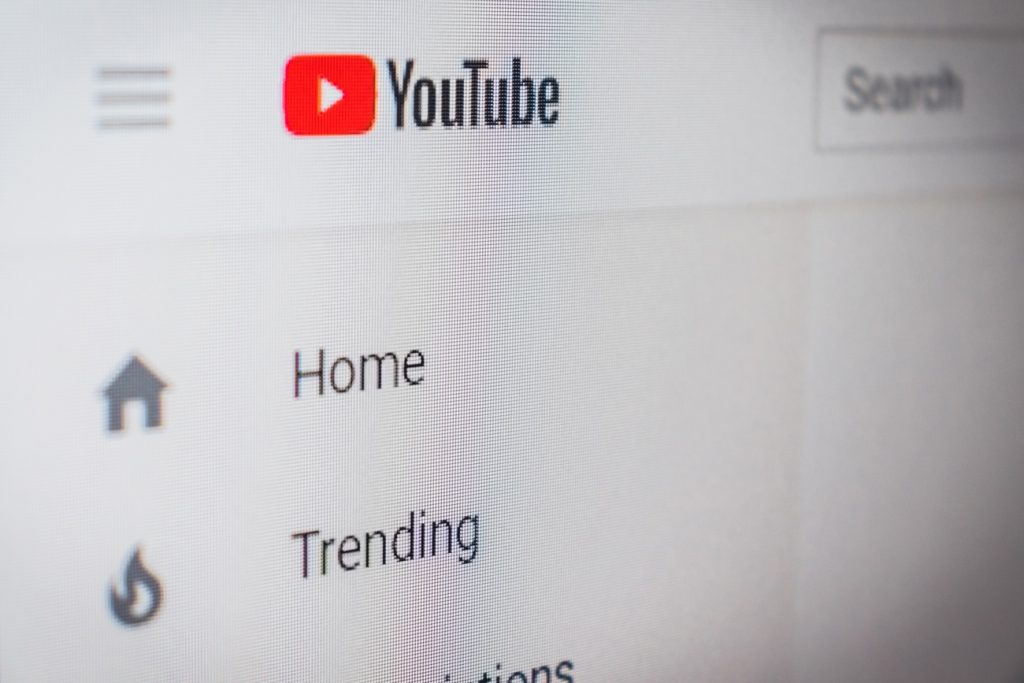 There are so many YouTube to MP3 converters that it is sometimes difficult to know which one to choose. You don't have to search the Internet for the best sites to save one of your favorite videos on your computer, we offer you the list of best free and fast converters :
Comparison of the most popular YouTube to MP3 converter sites
Comparison of the best Youtube Mp3 converter sites (2023)
Read also : Top Best Sites to Download YouTube Videos without Software for Free
---
Youzik is the fastest online site you allowing to download Youtube videos in mp3, no installation of third-party program is necessary, no plugin, not even a registration, you just have to search or directly copy a url of your choice in the field.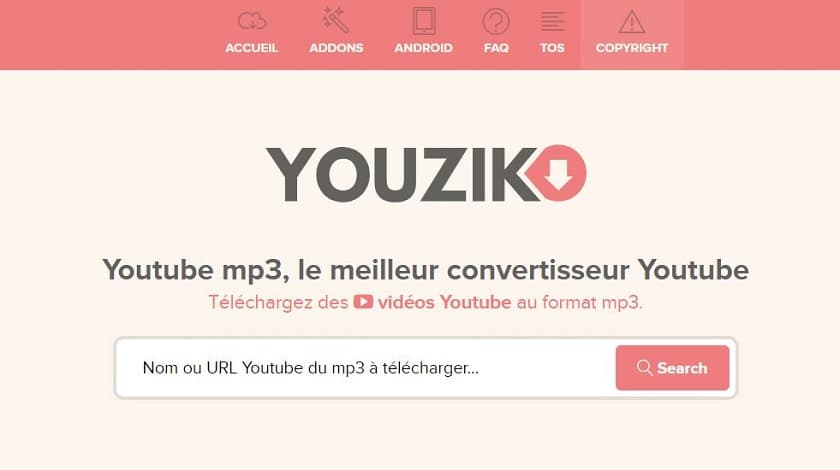 The download begins while the service is converting the video, so there is no waiting time, the whole process is instant which makes Youzik the most efficient way to extract mp3 content from Youtube videos, besides, YouZik works perfectly on smartphones, tablets and laptops, this way you can save mp3 files on any device.
YouZik extracts the best possible quality as an mp3 file (320kbps).
Youzik is a real Youtube mp3 converter cloud. It operates on average ten times faster than its competitors thanks to advanced technology, which is why it is placed at the top of the list as the best free converter for 2023 season.
Since November 2020, YouZik.com changes domain to become youzik.net.
Online Video Converter allows you to convert your favorite YouTube videos to different formats using its free YouTube converter.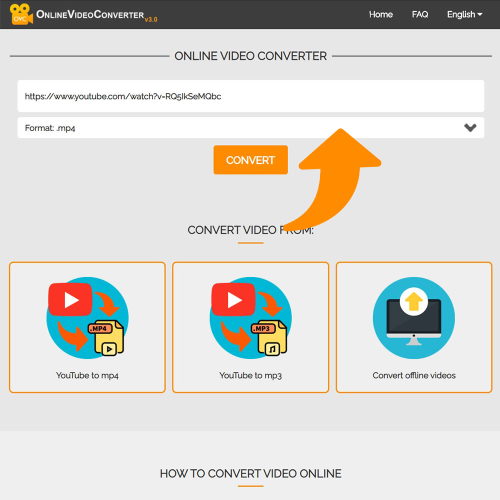 The advantages of OnlineVideoConverter.com:
Full compatibility with modern browsers
High speed conversions
Wide range of supported online video portals (Youtube, VK, Facebook, Instagram, Vimeo, etc)
No registration required
Unlimited free conversions and downloads
No software installation required
Convert and download in these formats: MP3, AAC, OGG, M4A, WMA, FLAC, WAV, MP4, AVI, MOV, MPG, FLV, WMV and M4V. This premium YouTube converter offers high speed downloads and superior conversions.
noTube is a Youtube mp3 converter in 2 clicks, Free in the format you have chosen MP3, MP4 and many others. Notube.net is a direct converter that claims to be created "by a user, for users".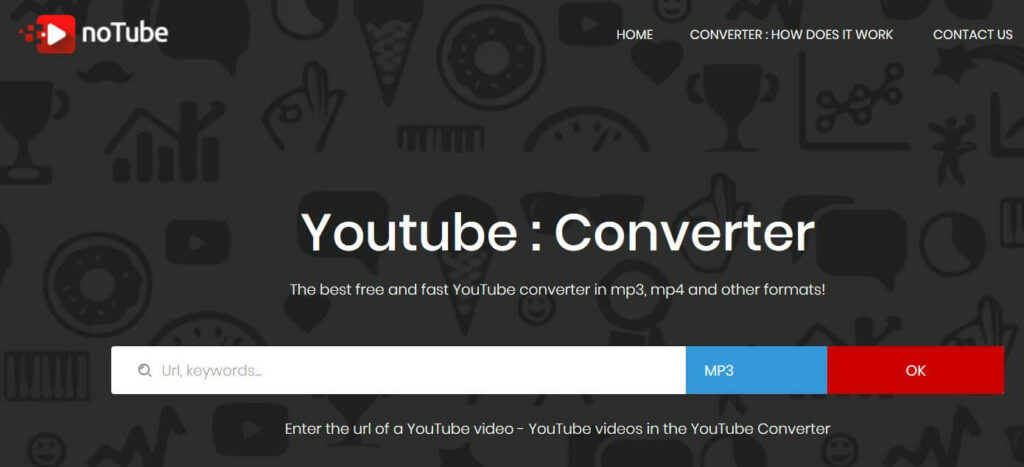 Other than free, noTube allows you to download files anonymously regardless of the MP3 or MP4 format. No data is kept.
The site also offers the domain shortcut, Modify the url in the address bar You Tube"Youtube.com/watch?v…" by "notube.net/watch?v…" and directly upload your content!
By using the ytmp3 converter, you can easily convert YouTube videos to mp3 (audio) or mp4 (video) files and download them for free, this service works for computers, tablets and mobile devices.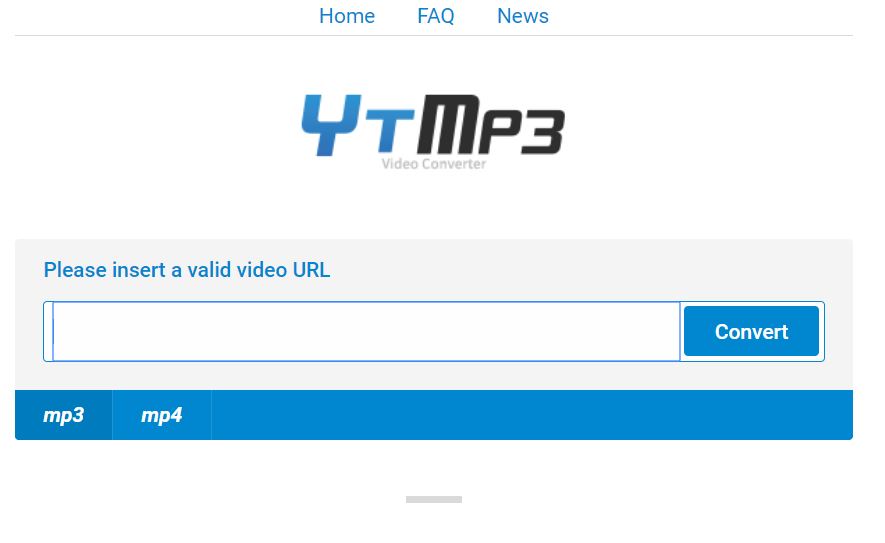 Videos are always converted in the best possible quality. Note that ytmp3 offers to convert only videos with a maximum length of 2 hours, so that converting a video will not take more than a few minutes.
The service is free and does not require any software or registration.
VideoToMP3 is an essential tool to download a YouTube video but it is also a converter compatible with many sites like Soundcloud, Facebook, Instagram, Twitter, Dailymotion, Vimeo and many others.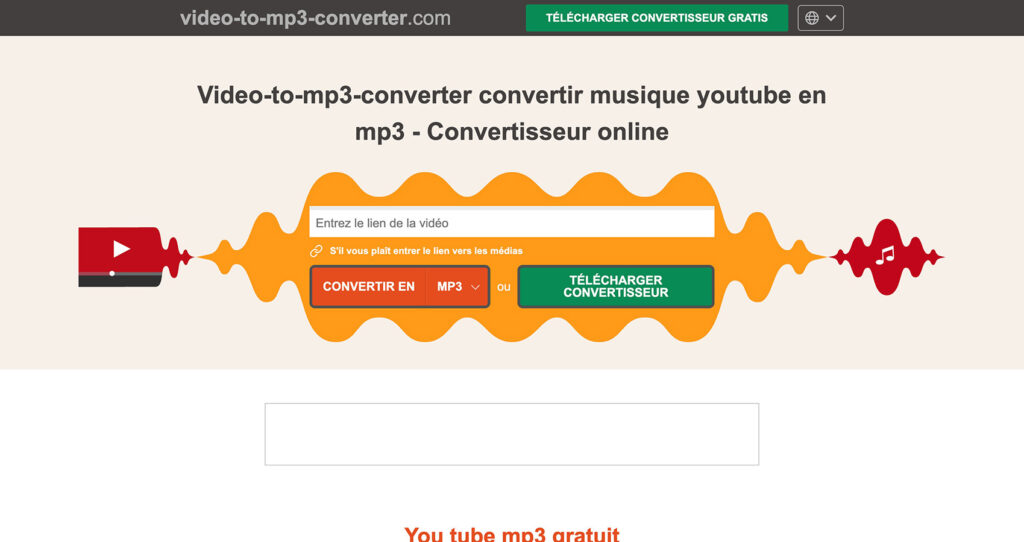 On Video To MP3, and like most sites on our list, the process of downloading, converting, and sharing videos is completely asynchronous, which makes downloading faster than with a basic converter without sacrifice the quality of the output file which retains the original encoding rate regardless of the format chosen and the quality of your Internet access.
Top: 21 Best Free Streaming Sites Without an Account & The Best Western Digital External Hard Drives
This Youtube to MP3 converter site has been responsively designed and structured, so you can download from your TV, desktop, laptop, smartphone or tablet.
6. YT5s : unlimited free youtube to mp3 converter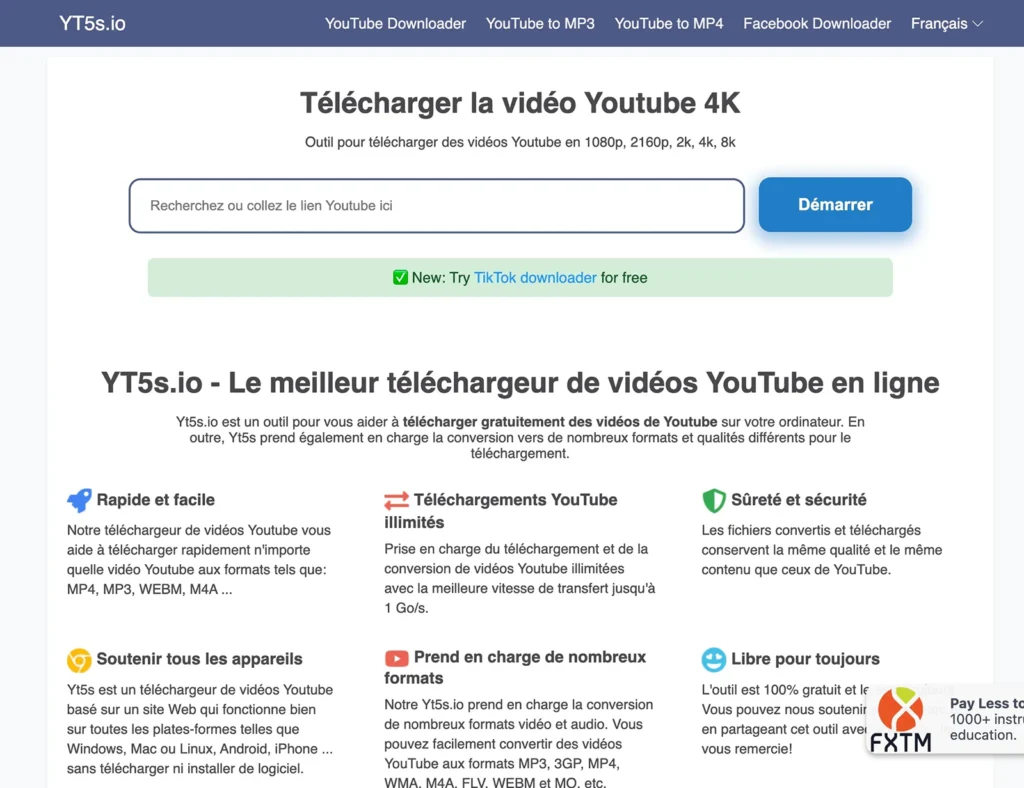 Need to download a youtube video in mp3 format? youtube to mp3 YT5s is a free online youtube converter to download youtube video to mp3 file.
It couldn't be easier and faster as a youtube converter: you simply paste the url of the video you want to download in the form field at the homepage, and a few seconds later, you get your mp3 in original quality.
Compatible with more than 1000 sites, this youtube mp3 converter is not satisfied with being able to download videos from Youtube to mp3, it is compatible with most current sites: Facebook, Vimeo, Soundcloud, Instagram, etc. 'To try !
Finally, this unlimited free youtube to mp3 converter is awesome, simple and convenient, it also offers converting and downloading videos longer than 20 minutes.

X2Convert is a free online application that can quickly convert and download online videos.
Web services allow you to download online videos in any quality (360p, 480p, HD, FullHD, UltraHD) and in any format (mp4, webm, audio, 3gp).
Paste the link of the Youtube video you want to convert
Click on the "Get Video Link" button to start the conversion process
Select the video / audio format you want to download, then click the "Download Video" or "Download MP3" button.
This converter is completely free and without registration it allows you to download Audio, HD, Full HD or 4K files. X2convert also offers to download videos longer than 20 minutes.
See also: Y2mate - Top Site to Convert YouTube Video to MP3 and MP4 & 21 Best Free Disposable Email Address Tools (Temporary Email)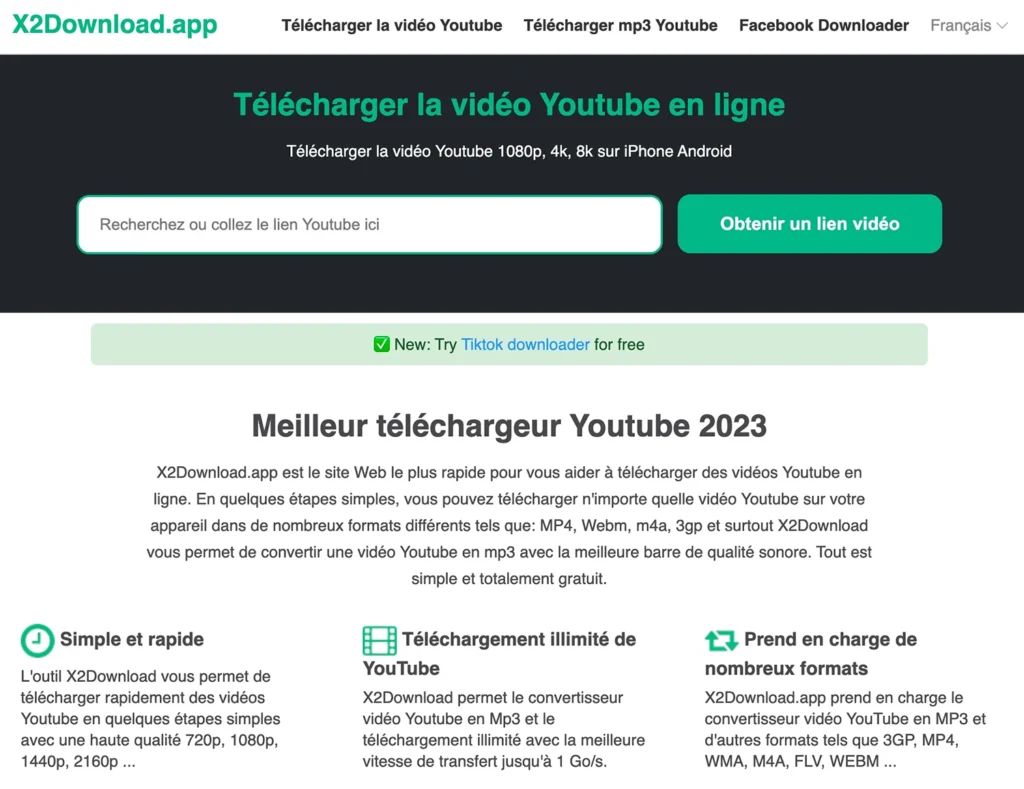 This is another website that works similarly to the others mentioned in this article. Thanks to X2download, you can download both Facebook videos and reels with quality up to 8K. This tool also works for Instagram reels.
X2Download has an intuitive interface translated into several languages. It is possible to choose from a wide range of video formats.
Conclusion
You will definitely like these YouTube to MP3 converters. They are all simple with intuitive use. All of the tools on our list offer the possibility of converting YouTube videos to MP3 or YouTube MP4 but also the possibility of converting Instagram, Facebook, Vimeo and Dailymotion videos. If you don't want to get lost in an interface full of buttons then these sites are perfect for you.
To convert a video to mp3 on any of the listed sites, just:
Copy the link of this video and paste it in the input bar provided.
Click on the 'convert' button.
Then click on the 'Download' button that appears.
And that's all. Very fast isn't it? It should be noted that the best Youtube MP3 converters are also available on smartphones through browsers like chrome or safari.
If the convert YouTube to MP3 always seems like a problem, it is better to consider a music streaming service like Spotify, Apple Music or Google Play Music, which will save you from having to convert any file.
What is the best YouTube to MP3 converter?
YouZik is the best YouTube to MP3 converter because it's user-friendly and can download and convert videos from a wide variety of sites. You can also download entire playlists in MP3 format, and even save subtitles if available.
Is it illegal to convert youtube video to mp3?
No, it is not illegal to convert video from YouTube to MP3 as long as you have permission. Downloading or converting a copyrighted video without the owner's permission is against YouTube's Terms of Service. YouTube has been on a vigorous hunt for stream-ripping activity. Most of the time, this means permanently banning YouTube channels or removing websites from Google search results.
How to legally convert YouTube video to MP3?
It depends on the video. You can certainly convert and download your own personal YouTube videos, as well as public domain and non-copyrighted videos; just search YouTube for "public domain" and "non-copyrighted" content. But you can't legally convert and download copyrighted videos without the owner's permission.
Read also : Dell Alienware m15 Laptop Review & Test
Don't forget to share the article on Facebook!