Top Free Movies & TV Streaming Apps: Today I am sharing with you the list of free streaming apps that will put hundreds of free French streaming movies and series at your fingertips. Install them on your smartphone or tablet and you'll be ready to watch the movie of your choice in just a few minutes.
The streaming apps on the list provide free Movies, TV Shows, Animes, Live TV streams, and more, to your favorite streaming device. Many people call these apps " Streaming APK" page (in French).
I let you discover the list of the +10 Best Streaming Apps to Watch Movies, Series and Animes for Free on Your Android Device and iPhone.
Top: 10 Best Free Streaming Apps to Watch Movies & Series (Android & Iphone)
Streaming services are a great way to watch movies, TV shows, and follow the sport. They are very practical because most streaming apps are accessible on your computer, smartphone, tablet or smart TV, but after a while, all streaming subscriptions may add up.
But fear not ... there are streaming apps for Android and iPhone and streaming websites completely free.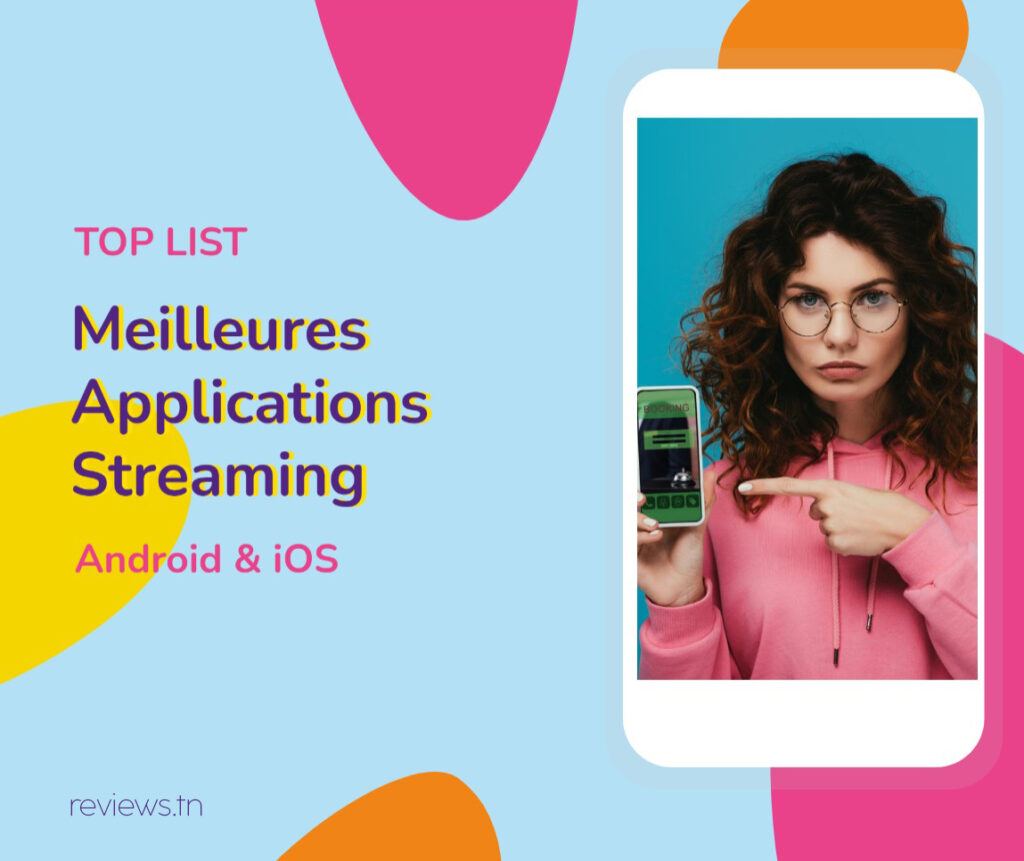 Not only do these free apps let you watch streaming movies, but many of them also let you watch series, anime and even movies. football matches. It's a great way to catch up with your favorite shows on the go.
In addition, the titles that you can access from these free streaming apps for iPhone and Android include comedy, action, horror, drama, documentary, old movies and many other types of movies and Box office, there really is something for everyone.
Copyright Legal Notice: Reviews does not verify whether applications, services, or websites have the appropriate licenses for the media they provide. We do not own, operate or resell any streaming site, service, application or addon. Each person is solely responsible for the media to which he / she has access and must only contain works not protected by copyright. The referenced applications / addons / services are not hosted or administered by Reviews.

Editorial staff Reviews.tn
Although the list below contains free streaming apps for Android and iOS smartphones, these can be used on tons of different devices like Fire TV devices including the new Fire TV Stick Lite, 3rd Generation Fire TV Stick, Firestick 4K, Fire TVs, Fire TV Cubes and more.
Currently, the most popular streaming device is theAmazon Firestick. This is mainly due to its "jailbreak" ability, which allows third-party streaming applications to be installed. Many users find this device perfect for their streaming needs.
There are also several other streaming devices that work great with these apps like the NVIDIA Shield, MECOOL Box, Chromecast with Google TV, and other generic Android TV boxes.
Read also : 21 Best Free Streaming Sites Without an Account (2021 Edition) & Top 7 Free and Legal Streaming Sites
Top Best Free Streaming Apps to Watch Movies and Series on Android and iPhone?
Many free streaming apps from the following list are available to install on your Android device, iPhone, or other preferred streaming device. These are the best APKs and apps for streaming movies and TV shows and this list will be constantly updated for your enjoyment.
The applications below are classified according to the following criteria:
Ease of use
Number of users
Reliability
Available content (Movies, series, Sport, etc.)
So if you are looking for a movie or series in free streaming VF or Vostfr on your smartphone or Android device, we let you discover the complete list of the best free streaming apps for Android and iPhone:
1. Kodi
Kodi is a free and open-source media player application developed by the XBMC Foundation, a non-profit technology consortium. Kodi is available for multiple operating systems and hardware platforms, with a user interface for use with TVs and remotes.
Kodi is a popular multimedia application that has been around for years and many believe that using Kodi is the best way to access and watch movies and series, live streaming, and more.
To stream content, users need to install third-party add-ons in the app.
2. Tubes
The application Tubes is almost identical to the desktop website, but it is so good optimized for mobiles that it is very easy to use.
The top part of the app features the same movies that scroll across the top of the website, with all kinds of different genres mixed in.
The same genres and search tool are available on the app as on the website, and each film cover is large enough to be viewed without having to touch it.
Choosing a movie takes you to its description page, which shows the release date, length, rating, and genre.
You can download Tubi for iPhone, iPod touch, iPad, Apple TV, Amazon Fire TV, Android, Roku, Chromecast, Xbox 360, Xbox One, Samsung TV, and Samsung Blu-ray players.
3. PopcornFlix
One of the best Free Streaming Apps on our list, Popcornflix is a free on-demand streaming service that offers watching movies and TV episodes without having to pay a monthly subscription. In exchange for this free content, Popcornflix inserts advertisements into the viewing experience.
It is a subsidiary of Screen Media Ventures, which is one of the "largest independent film distributors for the global television market".
For an on-demand streaming service that doesn't require a subscription and is available for Android devices and iPhones, this may be enough to grab attention. But in a market where retail giants like Amazon (IMDb TV) and Walmart (Vudu) compete for market share, is the promise of free movies in just a few clicks enough to attract users ...
4. watched
One of the best free streaming apps for iPhone, Android, Huawei, and more. WATCHED combines the functions of a media player with those of a browser. What is the result ? Great entertainment.
Are you surprised that WATCHED is currently one of the most popular apps in the world? To your surprise, the app is available for free.
It allows you to watch Free Streaming Movies & Series easily on almost any device.
5. Vudu
This site is well known for movies you can buy, but if you don't mind the occasional advertisement, you can also watch thousands of movies for free on Android and iPhone.
It is easy to view only free movies on Vudu ; just open the Free page in the menu or search for films with the FREE WITH ADS label. From there, you can browse all the movies based on which ones are new this week, which are the most popular, or which belong to specific genres.
You can also check out all of Vudu's free movies on its website and then search for a specific movie on the app to watch it from your mobile device.
The movie streaming app installs on Android, iPhone, iPad and iPod touch, and also works with Chromecast.
6. Yidio
The free streaming app of Yidio only works on a few devices, but it's actually a very handy app that shows you exactly where you need to go to find free movies and series.
You can filter movies in a number of ways including release date, MPAA rating, and genre, and even hide the ones you've seen before.
You can also filter movies by app to find free movies or movies that are available in an app you already have on your device.
By the way, since most of the movies offered here are not hosted on the Yidio website, you will be asked to install other apps.
The following platforms can install this app: iOS, Android, and Amazon Kindle.
7. Plex
Unlike other free streaming apps, Plex Also works as a server media player for your favorite streaming device.
Plex offers plenty of titles on its website and streaming app. However, users can also upload files to their Plex media server and access them anywhere.
It's perfect for watching family movies, old DVDs, music, etc. Plex also recently added over 80 free channels for live streaming, making it an all-in-one streaming platform and one of the best Free Streaming apps on our list.
8. Everstream
EverStream allows you to watch favorite tv series streaming from your smartphone. Fans of vintage or recent series, you will be delighted. Available for Windows Phone and Android.
The app also offers another "Everstream Movies" which allows you to watch free streaming movies on your Android and Windows devices.
9. NOVA TV
Nova TV is another alternative on our list of the best free streaming apps, continually updated with tons of preferences that users can customize.
It notably uses MX Player for video streaming and integrates real-debrid for the highest quality links.
Nova has an easy to use interface with tons of content including categorized movies and TV shows.
10. Cinema HD APK
Cinema is an easy-to-use streaming APK that is gaining popularity among mainstream audiences. It has a full library of movies and TV shows and works extremely fast on almost any device.
With the integration of real-debrid and trakt.tv, Cinema has the ability to make your streaming experience the best it can be.
There are thousands of titles which are sorted by categories, including genre, for an easy selection process.
The links are served in high quality and often available in 1080p HD.
Cinema HD is a safe application because it does not show pirated illegal content. It only acquires online movie links from various HD sources and provides a clean interface.
See also: TutuApp - Top Best App Stores for Android and iOS (Free)
The list is updated weekly to add free streaming apps for Android and iPhone. Save this page to your favourites?

Writing Reviews
Read also : Top +25 Best Free Vostfr Streaming Sites & Voirfilms - Best Sites to Watch Free VF Movies
Video streaming is quickly becoming the norm. People pay for Netflix, Amazon prime and others similar services without thinking twice, and cutting the cord has become a habit.
However, not everyone can afford to pay hundreds of dollars for subscription services a year. We understand this, as do many mobile apps on our list. Movie buffs who want to watch movies for free without having to travel to the gray areas of the Internet have several options.
To discover also: Best Sites to Watch Indian Movies Free Streaming & Top New Netflix Movies and Series This Month
Finally, if a streaming application on the list is not working, it is most likely due to a blocking of your ISP. We invite you to read this guide to change DNS server and thus unblock the blocked site.
We hope our list helps you stream Free Movies & Series, if you have other options to offer please write to us in the comments section and remember to share the article on Facebook and Twitter!