Skrill Reviews & Alternatives: If you frequently make international payments or money transfers, this easy to use platform might meet your needs. Skrill allows active users to transfer funds between its accounts - or wallets - with no transfer fees. Users can quickly create an account to make payments and money transfers between 40 different currencies.
In this article, we offer you a complete file for all about the Skrill platform, its offers, Cards and service fees, things to know before creating a new account and we list a selection of best alternatives to consider.
All you need to know about Skrill to send money abroad in 2022
Skrill Wiki
Denomination
Skrill Limited (formerly Moneybookers)
Parent organization: Investcorp
Other Names
Skrill, Skrill Bank
CEO
Lorenzo Pellegrino
Head office
UK
Address
25 Canada Square, London, United Kingdom
Customer Service
+44 203 514 5562
help@skrill.com
Transfer speed
2 - 5 days
Currencies
40
Website
Visit Skrill
Mobile app
Android, iOS
Presentation of Skrill Bank
Skrill is a safe and convenient e-commerce and money transfer service. Like PayPal and Paysera, Skrill's platform is designed to be easy to understand by people new to money transfers and digital wallets.
Send money to domestic users or convert money to over 40 currencies worldwide from your online account or the Skrill mobile app. If you need help with your transfer, contact customer service with their 24/24 phone support or view the interactive online FAQ. But be aware that the costs are numerous.
Read also : Comparison of the Best Online Banks & All about CPABuild, Offers, Methods and Payment
What is Skrill? : History & Presentation
Skrill (formerly Moneybookers) is an e-commerce company that allows payments and money transfers over the Internet, with an emphasis on low-cost international money transfers.
It is owned and operated by Skrill Limited, a UK based company, registered as Money Service Business with Her Majesty's Tax and Customs, regulated by the Financial Conduct Authority and authorized to operate in the European Economic Area.
Since 2015, Skrill belongs to the group Paysafe, with its former competitor Neteller and the prepaid payment method paysafecard.
Services
Skrill is an e-commerce service that gives you allows sending money transfers and international payments quickly and inexpensively. It is considered to be one of the fastest growing money transfer services in Europe. Based in London, the company serves more than 30 countries and nearly 120 users.
Skrill also manages the Skrill Showcase, an online gaming and betting casino. It offers regular bonuses for referrals and brand loyalty, including the unique ability to hold a multi-currency account.
Read also : Everything you need to know about Paysera Bank, to transfer money online
Skrill: Features, Test & Reviews
Create a Skrill Account
First of all, you will need to open an account with Skrill. You just have to go to the official home page by clicking on this link, then click on the "Register" button. You will find the latter at the top right of the screen.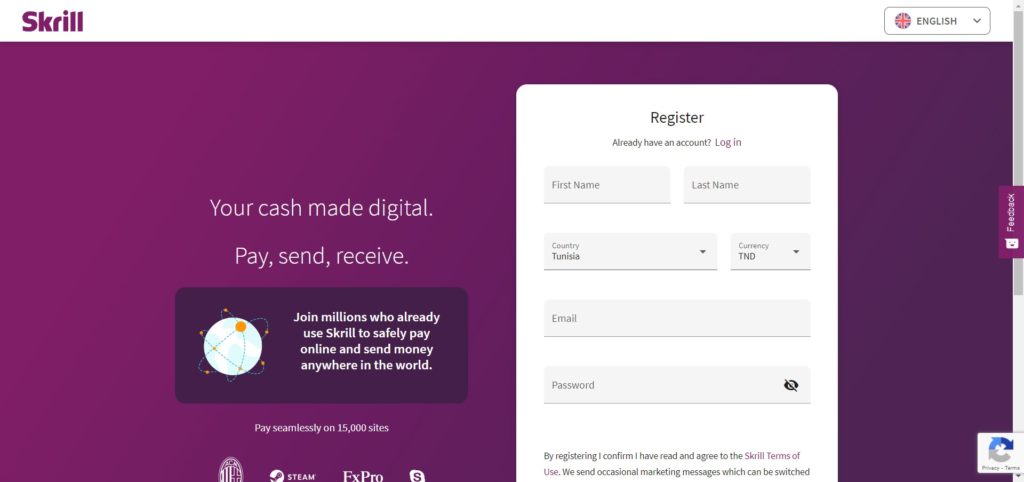 Next, you will need to enter your full name, email address, and then choose a strong password. Read and agree to the terms and conditions before clicking on the "Register now" button.
On the next page, you will then need to enter your country of residence and your preferred currency. Be sure to choose your national currency to avoid exchange fees.
On the next page, you will then need to choose the payment method you want to use to deposit funds. Once you have done so, you will be prompted to enter other personal information.
You don't need to verify your identity at this point, as long as you stay within your account limits. However, to increase these limits, you will need to upload ID.
Verify your identity
In order to verify your identity, and so increase your account limits, go to the settings page, which you can access via the left bar. Then click on "Verification".
In order to confirm your identity, you will need to download a copy of your government issued ID. This can be a passport or driver's license, or in some cases, a national identity card.
If you decide to do it from your desktop computer, then you can download the document directly from your device. You will also need to upload a selfie of yourself holding a handwritten note with today's date.
Also, if you decide to verify your identity through your mobile app, you can use your smartphone's camera to take a picture of your ID.
Which payment methods are supported by Skrill?
Once you have created your new Skrill account, you will have access to a series of payment options. This includes a traditional bank transfer, debit / credit card, and a number of alternative methods such as Bitcoin or Paysafecard.
Here is the full list of supported deposit options.
Bank transfer
Debit / Credit Card
Neteller
Bitcoin and Bitcoin Cash
Paysafecard
Trustly
Klarna
For a wire transfer, you will be presented with the details of the local bank account you need to transfer the funds to. You will also be given a unique customer reference number.
It is imperative that you insert this customer reference number when making the bank transfer, otherwise SKrill may have problems linking the transfer to your account. In the vast majority of cases, the wire transfer deposit will appear in your Skrill account within 2-3 business days.
Also, if you are from the UK, you can make a fast bank transfer through Skrill. This allows you to deposit funds instantly, through the Faster Payments network.
The other option available to you is a deposit by debit or credit card. This is by far the easiest option, as the funds will be instantly credited to your Skrill account.
Transfer money with Skrill
How do I send a transfer through Skrill?
After having create an account, you import money into your Skrill wallet using your bank account, credit card or debit card. You can then transfer money to another Skrill user directly to their Skrill wallet for a lump sum of up to on average 2% of your transaction.
How much can I send with Skrill?
Skrill doesn't limit how much you can send through its services. However, the amount withdrawn for your transfer must at least cover Skrill's transfer costs. The fees range from 5,5 euros if you withdraw from a bank account to 7% of your transfer if you withdraw directly in the form of Visa credit.
The amount you can send depends on the method you use to deposit funds into your Skrill Account and the status of your identity verification. If you deposit money into your Skrill Wallet with a verified credit card and follow the Skrill Identity Verification procedure, your monthly transfer limit can reach $ 25.
But if you make a deposit with an unverified credit card and don't complete the identity verification process, your monthly transfer limit is capped at $ 135.
You can increase your limits with the Skrill VIP Program.
How much does it cost to send money with Skrill?
The fees for sending money with Skrill depend on where and how you transfer the money to your Skrill Wallet.
In general, depositing funds into your Skrill Wallet by wire transfer is free, and it is always free to receive money into your Skrill Wallet. There are fees for other methods of depositing money.
Sending money to an email address or other Skrill wallet incurs a fee of 1,9% of the amount sent, with such fees capped at the equivalent of 20 euros. You will also have to pay a currency conversion fee of 3,99% on the Skrill wholesale exchange rate.
Guide: Comparison of the Best Online Banks
What types of transfers can I make through Skrill?
You can schedule recurring payments and make one-off transfers. They also offer separate benefits for business and personal accounts, depending on your transfer needs.
Skrill offers one-off transfers. You have the option to load the funds into your Skrill Wallet and withdraw the money, including:
Loading Methods: Load your Skrill Wallet with funds directly from your bank account, credit or debit card, SWIFT account, or other digital wallet.
Withdrawal methods: Your recipient can withdraw funds from a Skrill wallet to a bank account via wire transfer, credit card balance or SWIFT account, depending on their location.
Skrill Prepaid Debit Card
Skrill also allows you to get a prepaid debit card issued by MasterCard. This card is directly linked to your Skrill Master Account, giving you more options to spend your balance. For example, you can use the Skrill Prepaid Debit Card for free when shopping in-store.
You can also withdraw cash from an ATM, although you will be charged a 1,75% fee for this. On the other hand, the fees remain the same wherever you are, making the Skrill Prepaid Card useful when traveling abroad. The Skrill Prepaid Card comes with a fee of 10 euros, which you will have to pay annually.
Nonetheless, it is actually much cheaper to withdraw money from your Skrill Account, especially considering 7,5% fee charged to withdraw funds to a Visa debit / credit card.
Skrill to PayPal
Neither Skrill nor PayPal offer direct transfers between them. Both are among the most popular payment networks. Direct transfers between Skrill and PayPal are not possible. In the meantime, you can still exchange funds or transfer money from Skrill to PayPal through an exchange website.
PayPal and Skrill are two of the best known mobile wallets. Although they both have millions of users and offer similar features, like cryptocurrency trading and international money transfers, the two platforms are quite different and not directly related. Therefore, while it is possible to send money from PayPal to Skrill, the process can be time-consuming and expensive – especially if you plan to convert currencies along the way.
Because they are not linked directly to facilitate transfers, the process of sending money from PayPal to Skrill tends to be time-consuming and expensive. Although it's entirely possible, we don't recommend it if your goal is to transfer money in a foreign currency at a reasonable cost.
Test & Reviews
The positive points
Intuitive system. Skrill is a simple, easy to use platform for people new to money transfers.
Skrill covers many countries. Although not available in all countries, Skrill offers its transfers worldwide.
High limits. With no minimum transfer and up to a maximum of $ 25, few can beat the range of freedom that Skrill offers.
The negative points :
High fees. Convenience comes at a price, with many fees including a 3,99% currency conversion fee which is higher than many other online transfer services.
Potential inactivity fees. If you don't use or log in to Skrill at least once a year, you will be charged a monthly fee of 2 euros (approximately $ 2) until you do so.
Requires government issued ID. This requirement could deter users who do not have one.
Skrill Review: Verdict & Conclusion
In summary, Skrill is a very useful tool for sending and receiving money online. No matter where the other person is, you can transfer funds with ease.
We really like that the platform supports a significant number of deposit methods, such as wire transfer and debit / credit card, as well as alternative options like Paysafecard.
While the 1,45% transfer fee is pretty competitive, things can get a bit pricey when you need to transfer funds using a secondary currency. This is also the case if you need to withdraw funds on a Visa card, with the fee amounting to a whopping 7,5%.
However, a simple solution in this regard is to get the Skrill prepaid card. You can withdraw your Skrill funds at a rate of only 1,75% at your local ATM. This solution is particularly useful if you want to use your card in another country.
For more alternatives, we suggest you consult our article comparison of the best online banks in Europe and our full test on Revolut Bank.