Top Best women's perfumes in 2021/2022: A signature scent should be timeless and comfortable to wear, in all situations and at all ages. But of course, with so many fragrances on the market, finding the perfect scent for you can be a challenge.
Subtle and understated or daring and unapologetic, there are no limits when it comes to captivating the senses with seductive scents. And few gifts for women, whether for yourself or a loved one, have the magic to evoke memories the way perfumes strike a chord.
In this article, I share with you the results of my three months of research on list of the best perfumes for women in 2021 and 2022, you find all the information needed to choose your signature fragrance and the exclusive selection of tops perfumes and fragrances according to your tastes.
How to choose the best perfume? ?
Choosing the best perfume for women is a very personal journey for everyone.It's not enough to read reviews online, order a bottle and hope for the best. You need to understand fragrance notes and families i.e. ask yourself important questions like whether you like floral notes, citrus notes, or stronger scents like oud.
It all depends on what calms your senses and, ultimately, what suits your personality.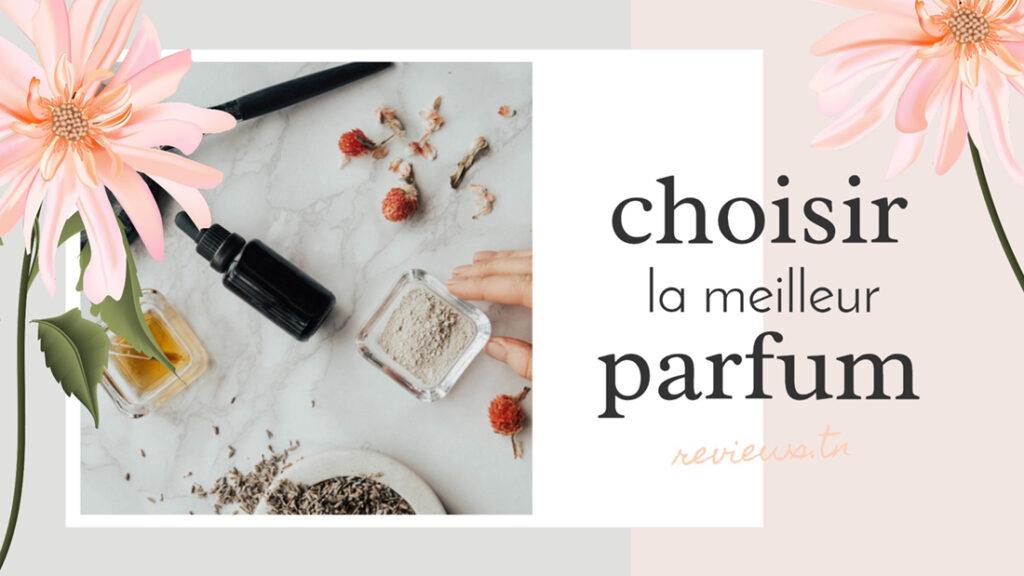 Also, trying too many fragrances at the same time can be extremely overwhelming, which is why it is essential to take a break and come back later to make a purchase, or to take a few samples home to try them out for a while. a while (or ask her girlfriends). Therefore, it is essential to test the perfume of your choice before purchasing it.
The notes
The easiest way to describe a perfume is to list what it is made of, that is, its notes. In fact, perfumes are made up of a triangle comprising base notes, middle notes and top notes.
To better understand the notion of notes of a perfume here is a diagram that easily explains the triangle: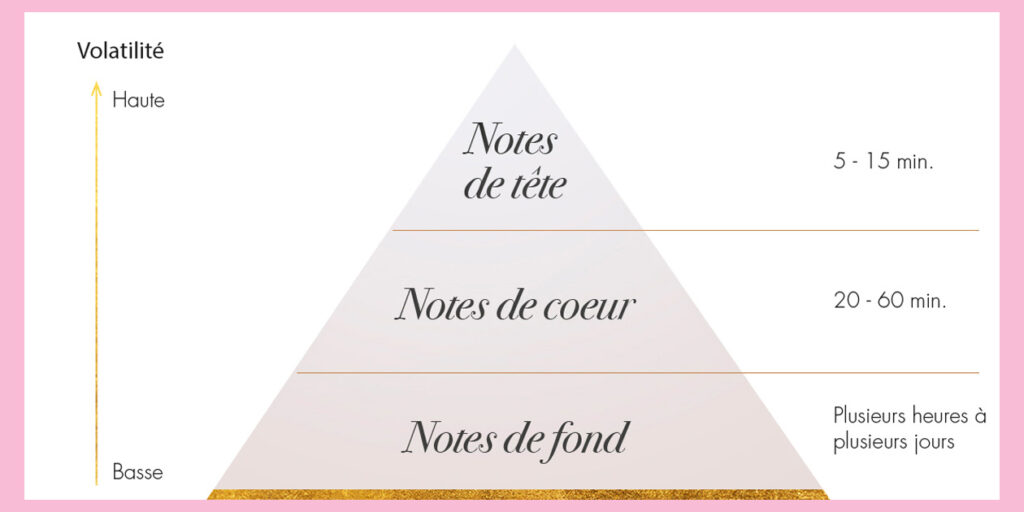 So, as soon as you spray the perfume on your skin, the first thing you smell are the top notes, and after a while the body of the perfume, the middle notes, go through your skin, and after an hour or so. , the base notes appear, which are the scent that people will smell and the one that will last the longest on your skin. It is not as simple as love at first sight, it takes time.
By now, I assume you have understood the concept of notes, so it's time to move on to the next section to discover my tips and advice to help you choose the best women's perfume in 2021/2022.
How to choose the right perfume?
Whether it is to choose the best woman's perfume for you, or for your girlfriend / wife, or for a loved one, it is always essential to follow some basic instructions and tips to make the right choice.
here are some rules to follow when choosing your perfume :
Don't get carried away by trying too many perfumes at one time: Test the scent on your skin, see how you feel and how it changes over time as it may smell different once it settles on your skin. For example, the scent of rose is a popular scent, but that doesn't mean it will suit your skin. The key message is to take your time to choose.
Notes are essential: pay attention to the notes you like, as this will narrow your search down and make it easier for you to find the right scent, whether in store or online. Ask yourself what scents you already like in other products. Do you like the smell of your cherry candle and want something similar? Sometimes the answer is right in front of you.
Combine scents to create the perfect scent: You can layer scents, from lightest to strongest, to create your own "signature" scent, if you can't find the one you want in one bottle. For example, you can mix your own scents that belong to different notes and fragrance families to create your own scent.
Don't follow trends: Don't shop for perfumes based on popularity or what's in fashion. What is a person's best choice may not be yours. Take your time, get to know yourself, your style and your tastes before committing to a perfume.
Think about why you are buying it: Is it for your personal grooming routine, for your date, for bedtime, for an occasion like your birthday or a wedding? Scents are all about emotions and memory, and often when you smell that scent again it will take you back to when you wore it. Scents are linked to our emotions and our memory, so ask yourself, what is this scent for me?
In general, a good perfume should have a balance of complementary scents, longevity and a harmony with your personality. Essential oils perform better than synthetic products in terms of longevity and balance.
Finally, if you are not sure what type of scent you, or the recipient of the scent, like, the types or "families" of scents may be a guide for you. For both men's and women's fragrances, the buzzwords are: floral, fresh, fruity, citrus, oriental, woody and spicy.

---
List: Top Best women's perfumes of the 2021 season for all tastes
There's something between scent and me, and it's been going on for quite some time now. Here's how it goes: I hang out with my favorites for a while, then break up with them when a hot new scent comes along with a scent that instantly steals my heart, it's complicated, I know, and probably a little unhealthy. , but it works.
The start of 2021 brought a new crop of scents that I've been courting all year, and I need to talk about it. After spending almost three months putting together the list, it's utterly impossible to pick just one favorite, so I plan to keep all of the fragrances on the list in rotation for the new decade. Whether you're drawn to fresh flowers or strong, woody musks, one of the scents below will grab your attention.
So I let you discover the ultimate list of Best women's perfumes in 2021-2022 for all tastes and budgets :
The best perfumes for women who smell so good
For the best scents category, we chose Jimmy Choo Signature as the best fragrance for women and Jo Malone Velvet Rose & Oud Cologne Intense as the best value for money in scents for women.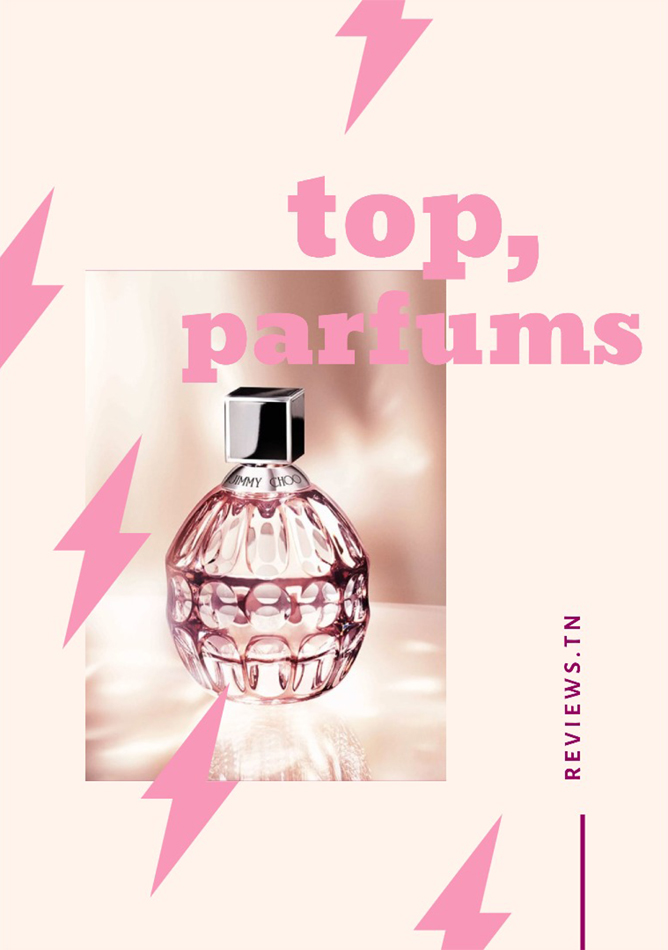 Here is the full list of best women's perfumes in 2021-2022 that smells too good :
Jimmy Choo Signature : Imagine femininity, luxury and style in the bottle. Signature is a fragrance that envelops women in sensuality and seduction, with warm, rich and woody depths. Inspired by strong, empowered, beautiful, alluring and alluring modern women with a mysterious sense of confident sensuality. It's a scent that smells so good even after a long day.
Velvet Rose & Oud Cologne Intense : A wonder, this perfume is by far my favorite. It has a sultry rose and oud smell and smells so good.
Flowerbomb Eau de Parfum : It has some musky / sweet notes associated with floral, but not as much as other sweet scents like YSL Mon Paris, for example. Since it is floral, I feel like it is suitable for a wider age range, between 20 and 40 years old. Its shelf life is not very long, but it is comparable to that of other eau de parfum.
Tom Ford Black Orchid : An exquisite, sophisticated, dark (with floral nuances obviously), intense (but paradoxically subtle), mysterious and seductive, UNIVERSAL fragrance, perfect for women of all ages. A very unique scent, which I would compare to the "Tom Ford version of Chanel No. 5", but which smells really good and doesn't look like old ladies.
YVES SAINT LAURENT Free : A floral, sensual and daring lavender for a woman burning life at both ends. Eau de Parfum Libre is encapsulated in a bottle twisted by a luxurious and oversized accessory.
Capital Water Diptych (Classic): The Eau Capitale has an above average wake and excellent hold on my skin, a drop on the inside of my arm was still noticeable at the end of the working day. It's still not quite as "me" as the others on the list, but it seems like a fragrance that deserves its place in the Diptyque family and on our ranking of the best scents.
Read also : Bois d'Argent Perfume - Dior's Mixed Fragrance for Men and Women
The best perfumes for women according to men
Indeed men are more attracted to floral scents while women find "woody" aromas appealing, but you should avoid coconut if you are trying to get a date.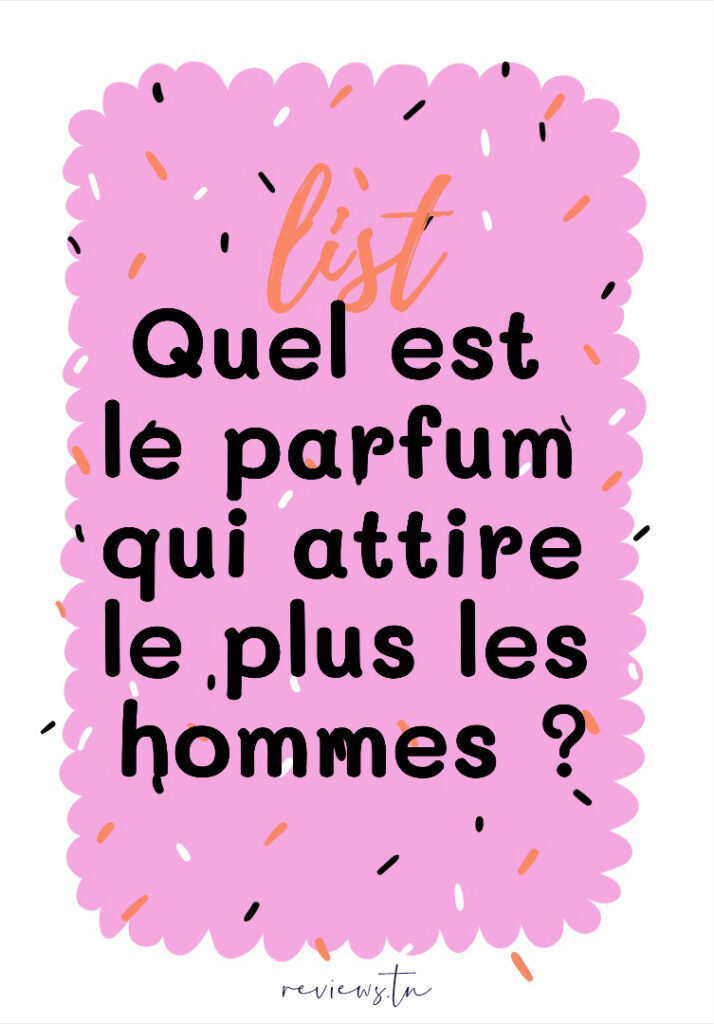 Love-seeking women should wear floral scents to attract a man, according to a new study, while they prefer a "woody" scent over would-be lovers.
That said, here is the list of Best perfumes for women according to men in 2021 :
I love christian dior : The best-selling perfume from the house of Dior is also one of the perfumes that men love. J'Adore is a predominantly floral scent, but the light musk tones do not show up until after some time.
CHANEL Gabrielle : It's a classic fragrance that will stand the test of time, with a unique touch. A white floral, with notes of jasmine, orange blossom, tuberose from Grasse and ylang-ylang. I highly recommend you give it a try, as it has all the characteristics of Chanel's DNA, but also a touch of freshness and sparkle.
Giorgio Armani Si : If is an amazing fragrance, its shelf life is much longer than that of most other fragrances, it easily lasts all day without the need to renew it. If is fruity, spicy and sultry, I feel sexy every time I wear it. A small amount is enough to make the price much more bearable.
Daisy by Marc Jacobs : Soft, light, pretty, sympathetic. Marc Jacobs Daisy Eau de Toilette is the perfect fragrance for the charming and relaxed girl. It is perfect for those who are cheerful, playful and bright like the spring season and especially suitable for those looking to mark a cool, young and light man.
Calvin klein euphoria : Its fragrance is a contrast between exotic fruits and seductive flowers, for a rich, creamy and seductive signature. Notes: Pomegranate, khaki, green notes, black orchid, lotus flower, champaca flower, liquid amber, mahogany wood, black violet, cream accord.
Top best-selling women's perfumes
From the rise of water-based perfumes in the Middle East, to light fragrances from the Far East, through the evocative scents of France, zoom on the fragrances that are most successful around the world.
Then check out the list of the best-selling fragrances this season, including some all-natural options for anyone who hates "synthetic" fragrances. What we like best about the options below is that most of them can go with you from season to season.
Here is the list of best selling perfumes for women :
Chanel No. 5 Water : Chanel No. 5 is by far one of the most famous and iconic perfumes of all time. This special fragrance from the Chanel brand appeared 90 years ago on an order from Gabrielle Chanel, who called for a feminine scent and it is one of the best-smelling perfumes in the world.
Coco Mademoiselle Eau de Parfum : The smell lasts all day with just one or two sprays. Yes, it's a bit pricey, but it's worth it for the little confidence boost it gives you every morning when you put it on. Coco Mademoiselle perfume is one of the best selling perfumes in the world.
J'adore by Christian Dior Also on our top list of Best Perfumes for Women by Men, J'adore by Christian Dior, which was launched in 1999, is associated with luxury and wealth and remains top-selling worldwide.
Light blue by DOLCE & GABBANA for women: The fragrance was developed in 2001 by Italians Domenico Dolce and Stefano Gabbana with great success. The association is of notes from different olfactory families, such as woody, fruity, and also floral.
Angel by Thierry Mugler : Angel by Mugler is an amber and vanilla fragrance for women. Angel was launched in 1992. Angel was created by Olivier Cresp and Yves de Chirin and remains in the list of best-selling women's perfumes for another year.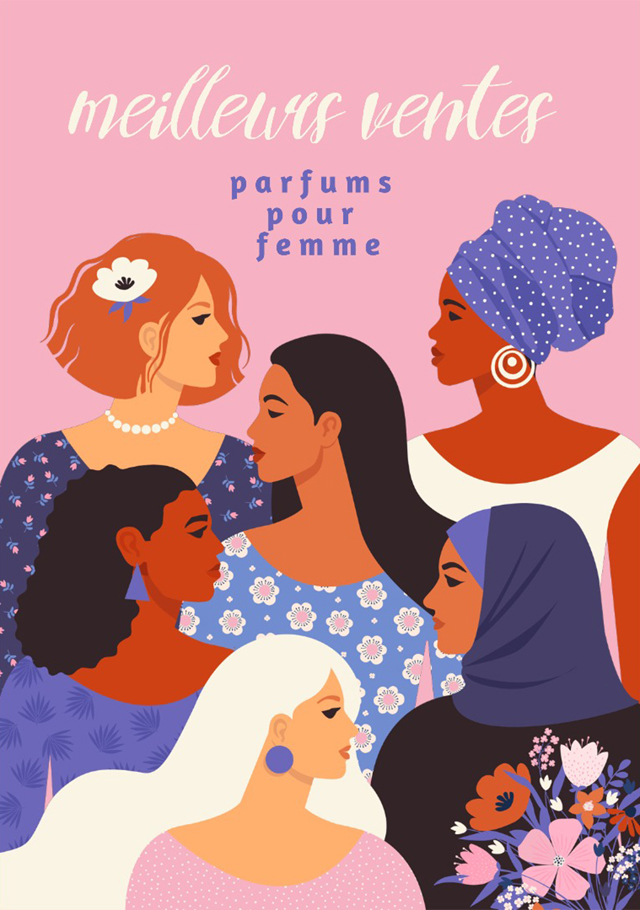 Buy your perfumes online
If you're anything like me, you probably buy everything online from paper napkins to Books, without forgetting a wide range of beauty products.
Having said that, buying perfume online is not necessarily in your plans, but it should be. While it may seem odd to buy a perfume without sniffing it first, buying perfume online has a long list of benefits.
Of course, there is the universally appreciated practicality that applies to all types of virtual purchases (even flowers). But when it comes to perfume in particular, the Internet is also a real treasure where you can find not only good deals and flights.
Read also : 25 Best Free Sample Sites To Try & +41 Most Beautiful Trendy African Braid Models 2022(photos)
It is also a place where you can discover a wide range of new and interesting brands that may not yet be available in the department store or large beauty store where you would shop.
If you liked the list, don't forget to share the article on Facebook, Twitter and Pinterest ❤️? !