Best TikTok Video Format — TikTok's success has peaked. Now, it is no longer just teenagers who are obsessed with this social network, but also adults and adult video creators.
Now is the time to get started on this growing social platform and everything you need to get started is at your fingertips. A cell phone, an idea, and a perfectly app-optimized video are all you need to start your first TikTok video.
And to make it easier for you, we will answer all your questions in this guide, namely the best video format for TikTok, how to convert videos to vertical format and adapt them online for free, as well as the ideal sizes of stories to compete. social networks.
What video format is TikTok using in 2023?
The recommended size for TikTok videos is 1080 x 1920 with an aspect ratio of 9:16 (vertical format). Following the recommended dimensions and aspect ratio ensures that every TikTok video is viewable on all devices. All things considered, TikTok supports both MOV and MP4 file formats. AVI, MPEG and 3PG files are also supported for TikTok ad videos.
Besides, the most important question is: what are the best dimensions of TikTok videos? And here is the answer:
Aspect ratio: 9:16 or 1:1 with vertical bars;
Recommended dimensions: 1080 x 1920 pixels;
Video Orientation: Vertical;
Maximum video length: 15 seconds for a single video and up to 60 seconds for multiple videos combined in a single post;
File size: 287,6MB maximum for iOS devices and 72MB maximum for Android smartphones;
Supported formats: MP4 and MOV.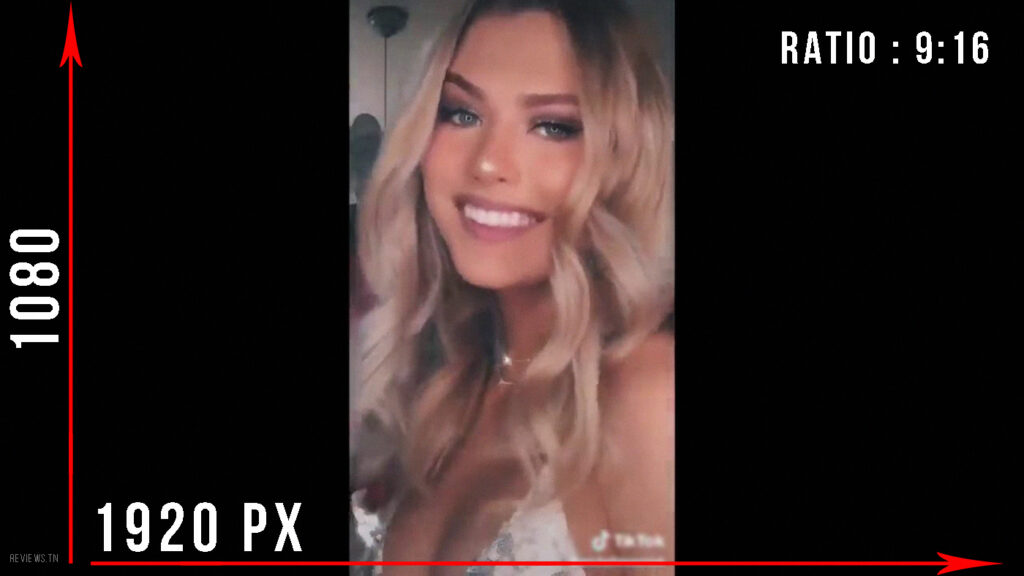 So if your video doesn't match TikTok video format, don't worry. In the next section, we will share with you the best tools to convert and resize your videos to the format required by the platform, and this of course for free and without downloading.
The video format of TikTok
The video format of TikTok is MP4 (MPEG-4 Part 14). It uses H.264 video codec and AAC audio codec to compress videos. Videos can be recorded in standard resolution or high definition, and have a maximum length of 60 seconds. It also allows the user to slow down or speed up the video, trim it and add music or effects.
How to resize my video for tiktok online?
So, if your video is recorded by other devices instead of TikTok's built-in camera, you need to resize the video before uploading it to TikTok.
If you have no idea how to adjust video dimensions and format for TikTok, you have come to the right place, with these three easy and free tools you have the ability to resize any video 5K, 4K, 2K for TikTok without watermark.
1. Use Adobe Express to put a video in TikTok format
adobe express is the most practical solution to have a video in TikTok format. It allows you to make professional quality edits on your videos for free in seconds. Optimize your video for your TikTok feed using the quick and easy video resizing tool. Upload your video, select the preset size for TikTok, and instantly upload your video to share with your followers.
2. Use Kapwing to convert videos for TikTok
capwing is an online tool that allows you to resize video files for TikTok for free. It can help you resize landscape video to vertical video or fill your video to vertical video by adding padding to it. Common size options are all covered, be it 1:1, 9:16, 16:9, 5:4 and 4:5. It also allows you to add padding to the video from 4 sides: top, bottom, left and right. You can freely choose the background color for the fill. Unwanted video margin can also be removed with the "Remove Padding" feature.
3. Use Clideo to resize video to vertical format
clide is another free solution to try to convert videos to TikTok format. The peculiarity of this free tool is the ability to resize videos for Instagram, YouTube, Facebook, Twitter and other social networks. In addition, the platform offers an iPhone app that allows you to convert your files without going through the site. Moreover, Clideo guarantees the same video quality after conversion, and you have the option of downloading the video in TikTok format or saving it to Dropbox and Google Drive.
Is it possible to crop a TikTok video on phone?
Unfortunately, TikTok does not allow cropping the size of a video in the app itself. Therefore, let's see how to do it on your phone.
Because each phone's camera features and dimensions are slightly different, one of the best things to do is to download InShot video editing app on iOS ou Android to standardize the process. You won't believe how easy it is!
Open the InShot app and select the type of content (video, photo, or collage) you want to use, then upload the clips or photos you've already taken.
Once you've done that and hit "Select", you'll see a suite of editing tools appear. Click on the one on the left that says "Canvas."
At the bottom of the "Canvas" options, you'll see a variety of aspect ratios for different social platforms. Pick the one from TikTok, which is 9:16 (it even features the TikTok logo to make things even easier).
Then all you have to do is finish editing your clips as you see fit, then click the export button at the top right. (It's the icon that looks like a square with an arrow.) Voila, you have a cropped video ready to post to TikTok!
Also see: SnapTik – Download TikTok Videos Without Watermark for Free
How to reduce the length of a video on TikTok?
Once you get a cropped video in terms of size, what if you want to crop the length of your content? There are two separate but similar processes for reduce the length of a video on TikTok, depending on whether you're using a saved clip in the app or downloading a saved video to your phone.
Open your TikTok app and click the plus symbol at the bottom of the screen to create a new video.
Tap the bright red button to save your video, then tap the red tick when you're done filming.
If you also want to trim the length of the video itself, click on the "Adjust Clips" icon on the right of the screen. From here, you can move the red brackets on your video to resize your clip.
Hit the record button when you're done, and you're ready to go!
How to fix poor quality TikTok videos when recording?
To fix bad quality TikTok videos, you need to manually set the maximum video quality before recording. Select 1080p video quality and 30 frames per second or higher for maximum TikTok video quality. Once the settings are correct, you can create a high-quality TikTok in no time.
If you're recording in low-light conditions, lower video resolutions like 720p or 480p might work better for your video.
Before you start recording, make sure you are using the rear camera rather than the front selfie camera. The rear camera of your smartphone tends to provide better resolution and video quality.
Data saving mode in TikTok settings can also make your videos look blurry when recording. To turn off data saver move, go to Settings and privacy → Cache and cellular data → Data saver → off.
Hint: ssstiktok – How to download tiktok videos without watermark for free
What is the format of a real Instagram?
If you also create real ones and record your video footage using Instagram's camera, you don't have to worry about file sizes. However, if your actuals contain uploaded videos, make sure that your files are of the right size and dimension to avoid a blurry and poorly framed final rendering.
Like TikTok videos and Instagram Stories, Reals are a mobile format, designed to occupy a full vertical screen. The recommended aspect ratio for reels is 9:16 and the recommended size is 1080 x 1920 pixels.
Discover: 15 Best Free All Format Video Converters
Conclusion: Best Video Format for TikTok
As we have seen in this guide, the ideal video format for TikTok is 9:16. Your video dimensions should be 1080 x 1920 and the video should use the entire canvas. Your video should have a margin of 150 pixels top and bottom and 64 pixels left and right. If your video does not follow this format and its dimensions, it is possible to use online tools and apps to resize and adapt your video to the best TikTok format. So it's time to get started and record your next video, and don't forget to share the article with your friends!