List of unreachable streaming sites : The streaming of films, series and sport allows you to watch your favorite programs without having to go to the cinema. With access to films from Netflix or Amazon Prime as well as the latest box office releases, the law has decided to act. Indeed, several free streaming sites for films, series and sports are now closed and inaccessible.
Following complaints from several organizations representing cinema or sport. Every month, several streaming sites are inaccessible, the four major Internet service providers are forced to block them.
For example, PapyStreaming, Time2watch and most pirate ddl (direct download) streaming and download sites are now blocked in France. Justice forces internet service providers in France such as Orange, SFR, Bouygues and Free to cut off access.
In this article, the Reviews.tn team shares with you the complete list of streaming sites closed, blocked and inaccessible this month.
50 streaming sites closed, blocked and inaccessible (April 2022)
If you have repeatedly tried to access a streaming site without success, the only plausible explanation for this inconvenience is that this site is blocked. Why block a streaming site? There may be several reasons why access to a media streaming site should be blocked. The most essential of these is the fact that this site either illegal. Indeed, apart from the fact that legal sites are veritable dumping grounds for malware, they are also the source of violation of many copyright rules.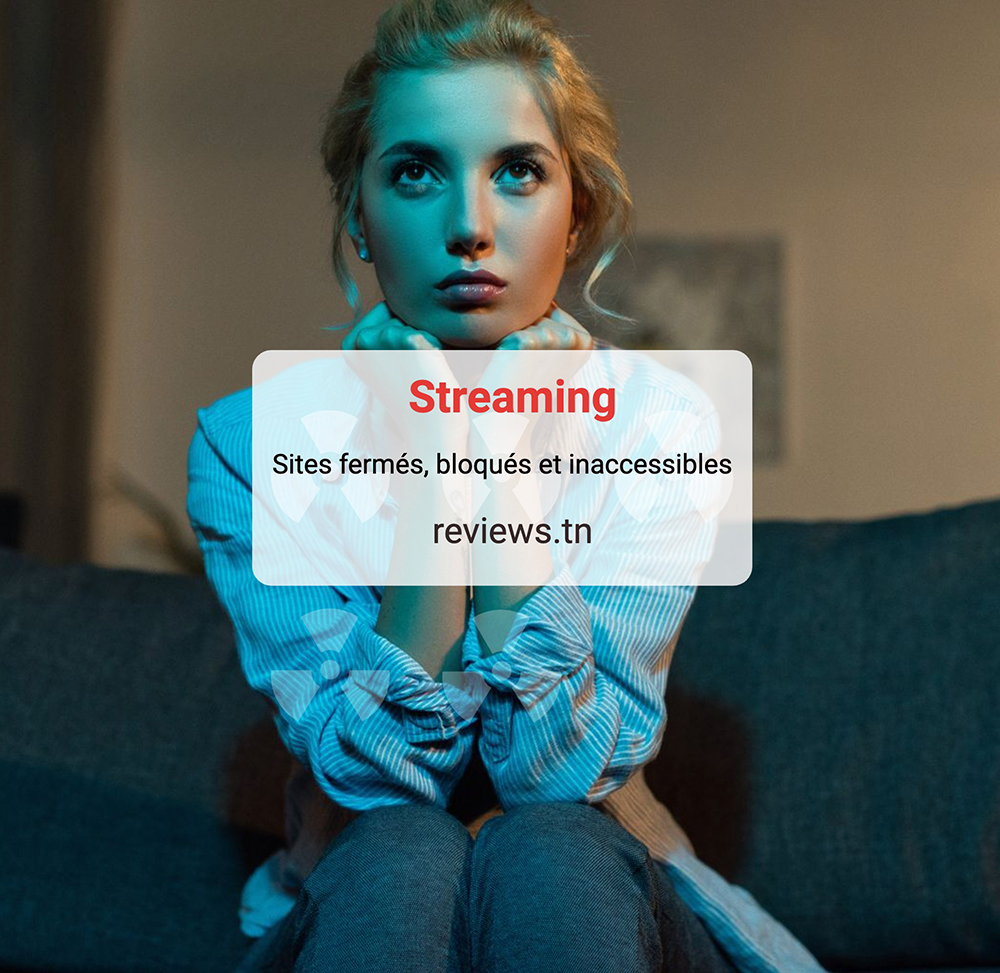 Blocking for legal reasons
This is often the case with illegal download sites or streaming sites or even sites like z library, the world reference for sharing books and scientific journals. These sites find themselves blocked because the content they offer does not respect copyright.
Concretely, the blocking takes place at the level of the Internet Service Provider. The latter analyzes the query you type on Google and does not show you the site in the search results (although it is there, in reality). The other option is that you will be able to find the site, but once there you will get an error message thatthe site is not accessible. That means it's blocked.
Recently, and after numerous complaints filed by representatives of French cinema and television, the Paris court issued a decision in which the giant internet service providers in France were ordered to block all illegal streaming sites . If you notice that several of your favorite sites are inaccessible, it is possible that these sites are in the list of sites blocked by Orange, SFR, Bouygues and Free.
To read : Top 15 Free and Legal Streaming Sites
Blocking by geo-restriction
Other websites may be blocked or made unavailable for very simple reasons of geo-restrictions. This applies in particular to television channels, for example those that are only available in certain regions.
In this case, the reason for blocking the site is directly related to intellectual property rights. Due to your geographical area, the channel does not have the right to broadcast its content, so you are blocked.
This type of blocking also applies to Netflix, OCS, Canal+, beIN Sports and all players who offer audiovisual content.
How to unblock all these blocked and inaccessible sites? The answer is simple. Justuse a VPN.
Films and series streaming sites closed
Any streaming site provides access to new movies, TV series, cartoons, mangas, documentaries in unlimited and HD quality. While paid movie sites like Netflix, OCS, or Amazon Prime Video are completely legal, watching movies on video streaming sites is completely illegal.
Indeed many platforms like Download zone, Papystreaming, Watch Movies ou Wiflix are in the sights of the Association for the fight against audiovisual piracy.
The following list includes movie and series streaming sites which are now blocked totally (worldwide) or partially (accessible in some countries).
Papystreaming (partially)
Full stream (partially)
allostream
4kstreamz.co
Vustream.co
Watchfree.org
Stream-complet.bz
4kstreamz.co (partially)
VFspace.me
Monstreams.info
Streamingfrance.com
streamlook.me
Vkstreaming.one
Streamingdivx.ch
Filmstreamz.xyz
fullstream.me
Streamingfrance.com
Seriesstream.ws
Frstream.biz
Quedustreaming
Directory-download-ec (change of address)
Directory-download-fr (change of address)
Tarniv.com
Zawox.com
Dirmox.com
grizox.com
Streamdeouf.rip
Vitmox.com
Binmir.com
Zormox.com
Extrabb.com
Dolbri.com
pijpa.com
Abdov.com
Irumax
Itzor
Dimbip.com
hairdressersurparis
Film-Streaming
Complete movie
MovieStreaming1 (change of address)
MovieStreaming1FV
Film
FRStream
Full-Series
Streamdeouf.net
Mangasusu.mobi
Blablastream.com
HDS-Streaming (change of address)
HDSS (change of address)
Libertyvf (partially)
Vfilms.club (partially)
N1Streaming

Planet-Streaming1

Radego
Wawaflix.tv (partially)
Series-Streaming
Seriecomplete
Streamdirect
Streaming-VOSTFR
StreamingDIVX1
Streamaw.com (partially)
Time2watch (partially)
Streamcomplet.vip
See-Movies-Series
bonstreamingp.com
VOSTFRSerie
Omstreaming.com
Wikiseries.co
Stream Island
zustream.one
emule-island
YTS (US)
123Movies (US)
Put Lockler (US)
123streaming.cc
Dokiz.cc
Soap2day (US)
Read also : Top: 45 Best Free Streaming Sites Without an Account & 25 Best Free Vostfr and Original Streaming Sites
The list of closed streaming sites is updated weekly. Do not hesitate to save the article to verify the addresses.

Reviews.tn editorial team
Sports streaming sites blocked
For several years now, sports channels like beIN Sports or Canal+ have been waging a fierce fight against illegal streaming sites. Recently, the two channels won a battle. A few days before the broadcast of the PSG – Real Madrid clash of February 15, 2022, Canal+ and beIN Sports obtained the blocking of new streaming sites which also share Champions League matches.
That said, the following list includes the latest updates when it comes to sports streaming sites currently blocked and inaccessible.
Channel Streaming (change of address)
Direct red (change of address)
SportLemons (change of address)
streamonsport (change of address)
Streamhd247.live
Crittime.co
FootStream.net (change of address)
Tennisstreams.me (Worldwide)
Sportsbay.org (Worldwide)
MamaHD (US)
Crack Stream (US)
CricFree (US)
See also: +27 Best Free Soccer Streaming Sites Without Downloading & +25 Best Free Sports Streaming Sites Without an Account
Troubleshoot video streaming issues
We explain below the main ways of fix common online video streaming problems, as well as things to consider that might be causing your bug.
Is your internet slow?
One of the main reasons for video streaming issues is slow internet. To watch Netflix in high definition, you need a minimum speed of 5 Mbps (megabits per second).
If you're paying for these speeds, it's worth checking that you're getting them. We recommend that you test the speed of your internet connection using a free speed checker tool. If you're not getting the speeds you should be getting, you can try to find workarounds. If all else fails, you can complain to your ISP.
A problem of the site directly
As mentioned earlier, it is possible that the problem is not with you but with the site itself: the video may have been deleted or the streaming service is temporarily unavailable or inaccessible in your region.
In this case, there is nothing you can do to fix the situation, so you have to turn to another source. Similarly, a message referring to copyright indicates that a video has been removed for copyright reasons. It is normal, in this case, that it is inaccessible.
Avoid buffering issues
A streaming video that freezes may be buffering. In this case, pause your stream for a moment to let it load. When you start playing again, it will definitely help you, and you can finish your movie without bugs.
Apps and programs running in the background may be preventing smooth streaming. Do not hesitate to close them during your viewing if they are not useful.
Who else is online?
Video streaming may be disrupted if many people are using the Internet at the same time on your home connection. If you're trying to watch a streaming site on your TV screen while your other half is busy downloading files and your kids are playing online games on their tablets, some slowdown is bound to happen.
If this situation seems common in your home, you might cause a fallout by asking others to put their devices down for a while. It might be best to consider upgrading your internet subscription to a higher speed connection, or a fiber optic connection if available in your area.
Switch browsers or use an app
If you're watching Netflix, Amazon Prime, Wiflix, or another streaming site in a web browser and you're having trouble, switching browsers or using a dedicated app might help.
For example, if you find playback choppy in Internet Explorer, try in Chrome or Firefox to see if that improves the situation.
Lower the video quality
High definition video is a joy for all of us who have known the old (or older!) VHS tapes, but it takes a toll on our internet connection. If you find your video stream is too choppy when played back in HD, head into the settings and turn it down a notch.
You don't have to support pixelated images. For example, on WatchMovies, you can downgrade the quality from 1080p HD (maximum) to 720p HD, a lower form of HD that remains crisp.
How to unblock streaming sites
To unblock streaming sites on the network you use, you need to get an app called VPN.
A VPN lets you hide what you're doing on the internet so only you know what you're accessing. It also allows you to override blocks that prevent you from using blocked streaming sites.
VPN services are offered by hundreds of different companies, but the provider I recommend is NordVPN.
NordVPN has a 30-day money-back guarantee, which makes it risk-free. You can also get 3 months free today using the links at this page. This will save you up to 49% off the standard price, which is just $4,99/month or $0,16 per day. That's less than your daily coffee!
Choose a NordVPN subscription, download the app, log in and click the button Quick Connect. That's all ! Now you can stream safely, wherever you are.
Another (less effective) alternative is DNS change to unblock a site streaming. This is a workaround to bypass automatic ISP content filtering by simply changing your router or device's DNS servers from the default ones set by your ISP to custom ones that don't enforce this filtering.