HolaVPN Free — Hola is a community-driven peer-to-peer network. Unlike ExpressVPN or CyberGhost, it doesn't use servers, but routes traffic through peering nodes provided by the service's 115 million users. In fact, when enabled, you cannot search Google, and if you want to use Google to search the web through a VPN, it offers you to buy a paid VPN from one of its competitors.
How does HolaVPN work?
Hola only uses a fraction of each peer's resources, and only when the peer is idle. Using peers rather than servers to route traffic can make those connections more anonymous and secure, the company claims.
Many have criticized the practice. Avast's blog states: "Many users don't realize that these are essentially exit nodes, and other Hola users may be using their bandwidth for illicit purposes. Its security flaw has now been patched.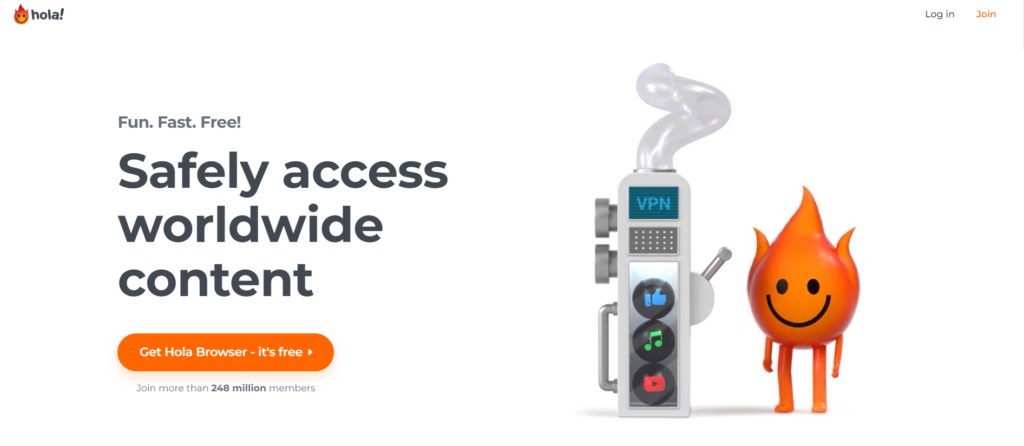 Hola VPN count about 248 million of members
We tested Hola and found that it allows users to unblock geo-restricted services and websites, such as BBC iPlayer and Disney more. With Hola, users can choose which country to access the Internet from. This means it can be used to circumvent blocking and censorship.
Hola is very easy to install and use. It is installed as a browser extension in Google Chrome, Firefox, Internet Explorer and Opera. It is compatible with Windows and Mac OS X. Hola also has apps for Android and iOS, which means it works on most mobile devices. A full FAQ and guide are available on the Hola website. It also didn't prove reliable in our Netflix tests, so it's nowhere near earning a spot on Netflix's VPN list.
The particularity of Hola VPN
As long as a user is logged into their account, they can use Hola on multiple devices. Hola also provides its own media player, which allows you to watch streaming media quickly and reliably over the Internet. Hola is completely free for non-commercial users, but paid for commercial users.
Free users become peers. If you want to avoid it, paid premium options are available. Similar to the screen that appears when trying to access Google with Hola, uninstalling Hola will give you a competing VPN.
The downside with Hola is the difficulty of accessing Netflix. If that's your main reason for using a VPN, check out one of our articles that show you effective and free alternatives.

Ease of use
Here are the steps for using Hola VPN:
Download the Hola Chrome extension on your browser
Once the file is downloaded, find it in the bottom bar of your Chrome browser, click on the arrow and select "Show in folder"
Right-click on the downloaded file and select "Extract All"
Click the menu button in the Chrome browser (three lines in the upper right corner) and select "Settings"
Click on the "Extensions" tab on the left
Drag the file you just unzipped into the Extensions window
The program should now work in your Chrome browser
Hola VPN Plus: The prices for the paid subscription
Hola offers paid subscriptions for businesses, but is free for individuals. As a free user, your IP address may be used by others. If you don't want to allow it, you can pay to become a premium user.

Money-back guarantee (in days): 30
Mobile app: 👌
Number of devices per license: 10
VPN Plans: hello.org
Discover : ProtonVPN: Best VPN with a bunch of features and a free subscription
Reliability & support
As a free Hola user, you can contact their support team via email. However, due to the large number of free users around the world, don't expect a quick response. They usually take a few days. If you are a business user, you can get more support options by logging into their website.
Alternatives to Hola VPN
PrivadoVPN is one of the most popular free VPN services on the market today with 10GB of free data every 30 days with no ads, no speed caps, and no data logging.
PrivateVPN is registered in Switzerland, which means it operates under the best data protection laws in the world. With both free and paid plans, users are able to still access streaming services and securely transfer P2P traffic at fast speeds.
In fact, it's one of the only, if not the only free VPN available that supports streaming services (Netflix, etc.) as well as P2P traffic.
The main difference with PrivadoVPN is its IP backbone and server infrastructure which the company owns and operates directly. It has servers in over 47 countries, with 12 servers available on the free plan
TunnelBear is the world's easiest-to-use free VPN for individuals and teams. TunnelBear works by allowing you to connect through an encrypted tunnel to locations around the world. Once connected, your real IP address remains hidden and you can browse the web as if you were physically located in the country you are connected to.
Windscribe is one of the best free VPNs. It is safe, private and quite fast. You can securely connect to 10 different countries and you have 10 GB of data to use per month.
Proton VPN
If you need more than 10 GB of data per month, you should use Proton VPN, which provides unlimited data. It is a reliable free VPN that comes with loads of security features for safe browsing.
With Mozilla VPN, you get strong privacy protection, advanced privacy tools, and by doing so, you're supporting one of the goodwills of the internet. The catch is that it costs a lot more than Hola VPN. Still, if what you need is a solid, guilt-free VPN, Mozilla's offering is a solid choice.
However, there are other VPNs such as NordVPN,ExpressVPN, WindScribe, Forticent VPN or CyberGhost.
Conclusion
To our knowledge, Hola is the only VPN that recommends other VPNs on its website. Why choose it? Hola stands out from the other VPN providers we recommend. As a community network, it has no static servers or associated costs. Instead, traffic is redirected through other users' devices. However, this means that these users are also using your device, using your internet connection and impersonating you online.
Read also : NordVPN Free Trial: How to Test the NordVPN 30 days demo in 2022? & 10 Best Free VPNs to Use Without a Credit Card