What is FortiClient VPN?
FortiNet's FortiClient is a perfect security solution for small and large businesses. She offers endpoint antivirus, VPN access and software inventory management.
It's a comprehensive security solution that brings the power of FortiGate Unified Threat Management to endpoints across your network.
FortiClient provides:
Built-in endpoint protection for automated next-generation threat protection
Visibility and control of software and hardware inventory across security architectures
Identifying and remediating vulnerable or compromised hosts across the entire attack surface
This VPN was originally designed for URRF students, faculty, and staff. The service provides remote users with a secure VPN connection to the campus network through a 128-bit SSL encrypted tunnel.
FortiClient VPN Supported Operating Systems
This VPN supports systems systems:
Windows 7 +
MacOS 10.11 +
Ubuntu 16.04 +
HR/CentOS 7/4+
iOS 9 +
Android 4.1 +
How does FortiClient VPN work?
FortiClient works with FortiClient Endpoint Security which provides comprehensive and dynamic network endpoint protection. It is a client software solution for desktops and laptops that offers a variety of security features.
FortiClient provides IPsec and SSL encryption, WAN optimization, endpoint compliance, and two-factor authentication when used with FortiGate units.
The tool extends corporate security policies to remote users, improving endpoint protection.
Integrated endpoint control, policy enforcement, centralized management and monitoring provide end-to-end security. To reduce total cost of ownership, built-in endpoint security is packaged in an easy-to-maintain agent.
The benefits of FortiClient
1. More control, more information
From the FortiGate interface, you can use FortiClient to control the security of various endpoints. Even when the remote endpoint is behind a router, you can manage settings, apply new policies, and track and log events. FortiClient gives you more visibility and control over your endpoints.
2. Each endpoint has state-of-the-art security:
With FortiClient Prime, every endpoint is completely secure, with the industry's fastest response to emerging threats, and supports vulnerability scanning and signature updates from the FortiGuard Threat Research and Response Center.
3. Autonomous defense:
The strengths of FortiClient are even more numerous than those already mentioned. The unregistered version of the free download provides a fairly comprehensive solution for devices not connected to a secure FortiGate network. Thus, upgrading to a registered solution is easy and does not require additional customer installation.
Host security and VPN components
As security assets, we can list:
Antivirus
SSLVPN3
Anti-Exploitation
Sandbox detection
Application Firewall1
IPSec VPN
Remote recording and reporting
Web2 filtering
Windows AD SSO Agent
FortiClient VPN Compatibility
Windows
iOS
Mac OS X
Android
Linux
Chromebook
Steps to download and install the FortiClient VPN client
1. In a WINDOWS managed environment
Here are the steps to follow:
On your laptop, click Start → Microsoft Endpoint Manager → Software Center
Under the Applications tab, find and click the FortiClient VPN icon
Click on "Install"
CWRU client is preconfigured ✅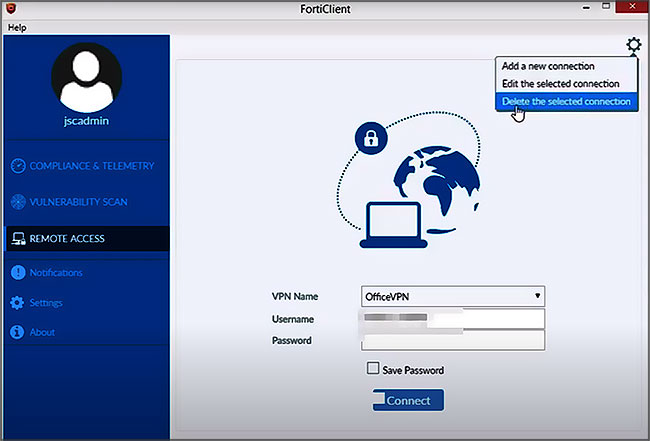 2. In an UNMANAGED environment
Visit the VPN setup website https://vpnsetup.case.edu/
Select the appropriate client for your operating system from the drop-down menu
Select the Start button to begin downloading the FortiClient installer
Open and install FortiClient with default settings.
Windows users who receive this message should click More Info and then Run Anyway.
Discover : Windscribe: Best Free Multi-Feature VPN
How to install FortiClient VPN
1. On Macintosh
No matter what Mac you're using, here are the installation instructions:
Enable the FortiClient VPN software extension in the preferences of macOS > Security and Privacy
Select SSL-VPN for Connection Name
Enter UBVPN for remote gateway
Set client certificate to None for authentication
select Login Prompt
Check custom port
enter 10443
Click Save
Check the acknowledgment box and click I accept
Click Configure VPN
Select SSL-VPN
Login name
Set client certificate to "None"
For Authentication, select Login Prompt
Check the customization port and enter 10443
Click on "Save"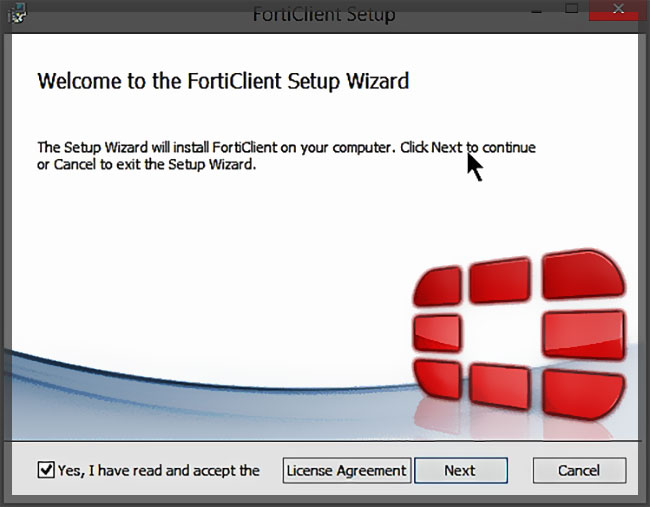 2. On a Windows PC
Here are the steps to follow:
Step 1 : - Download the VPN launcher , then the installer appears for download. – Select "Save" to download it if not automatic.
Step 2 : - Access in the downloads folder. – Launch the installer by double-clicking on it. – Click on "Run"
Step 3: If you receive this notification window, you need to select More Info and then run the program.
Step 4 : - Select the box "Yes, I have read and accepted the license agreement" in order to finalize the installation
Step 5: – Follow the instructions (Click "Next", then "Next", "Install" and "Finish" to complete the installation) and it's done ✅.
Read also: Hola VPN: Everything You Need to Know About This Free VPN
Conclusion
FortiClient has even more advantages. This VPN can be used on Mac or computer.
Like Cisco AnyConnect, FortiClient requires users to authenticate with Duo Security in order to establish a VPN connection to the university network. However, there are also other authentication methods: users can use the mot de passe of the FortiClient to specify an authentication method.