How to change these DNS to unblock a blocked site: The DNS domain name system is an essential part of your Internet communications. Upgrading to a better DNS server can unblock blocked sites and make your browsing both faster and safer.
Indeed the DNS server is the first intermediary between our devices and the website. Depending on its supplier / country, this can cause problems.
There are many reasons why you might want use a third-party DNS serverwhether it's parental controls, security features, accessing a Blocked site, or improvements in speed and reliability.
You can change the DNS for your entire network on your router, or set it individually on a PC, Mac, iPhone, iPad, Android device, or many other devices.
In this article, we share with you the complete guide to know how to change these DNS to access blocked sites in your area.
What is a DNS server?
A domain name system, or DNS, translates human-readable domain names (for example, www.reviews.tn) to machine-readable IP addresses (for example, 195.0.5.34).
So machines only speak numbers, but people want to use memorable domain names like reviews.tn or google.fr. To resolve this impasse, the DNS server is responsible for translating nice domain names into numeric IP addresses.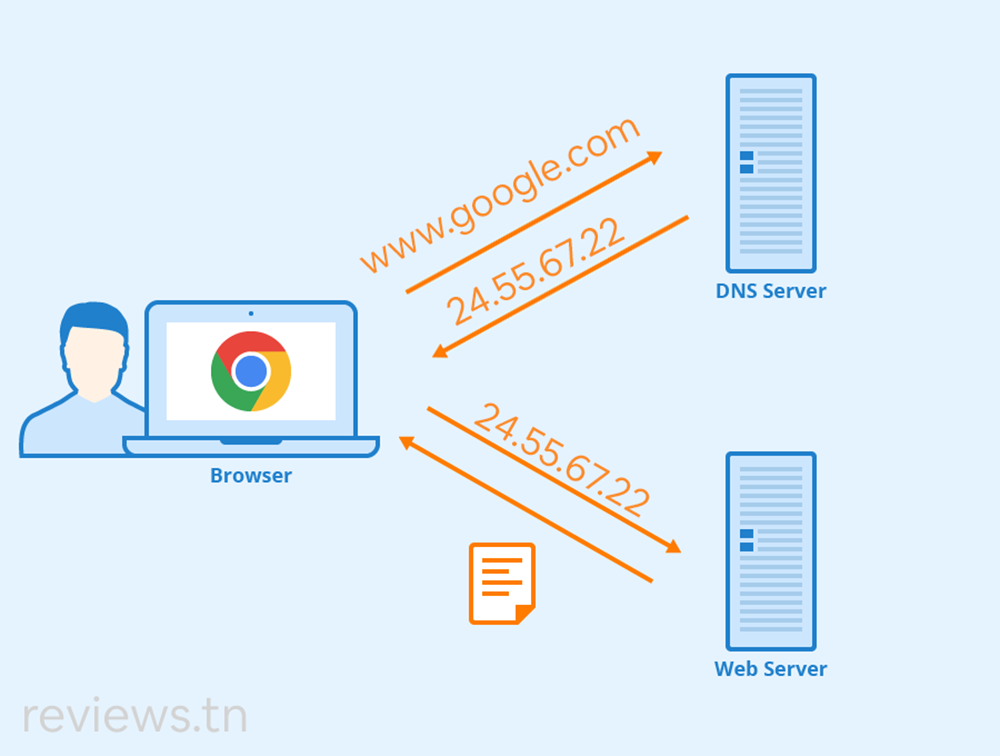 Your home network usually relies on a DNS server provided by your service provider. Once your browser sends a domain name to the server, it goes through a moderately complex interaction with other servers to return the corresponding, carefully checked and verified IP address.
If this is a heavily used domain, the DNS server may have this information cached, for faster access. Now that the interaction is reduced to numbers, machines can take care of getting the pages you want to see.
The DNS resolver is often referred to by the general public, only "DNS". It is present in your system in the form of an IP address.
Difficulties related to DNS
As you can see, the domain name system is essential to all your internet activities. Any problem with this system can have cascading effects on your experience.
Slow down the connection
For starters, if the DNS servers provided by the ISP are slow or improperly configured for caching, they can actually slow down your connection. This is especially true when you are loading a page that has content from several different domains, such as advertisers and affiliates. Switching to DNS servers optimized for efficiency can speed up your browsing, whether at home or in the workplace.
To read: How to increase livebox 4 throughput and boost your Orange connection?
Censorship and blocking of sites
When it comes to businesses, some companies offer DNS services with add-ons tailored to businesses. For example, they can filter malicious websites at the DNS level, so pages never reach an employee's browser.
They can also filter porn sites and other sites unsuitable for work. Likewise, DNS-based ISP censorship systems help providers control access to content or sites on every device.
This is the case in France where the Paris Tribunal de Grande Instance ordered French operators to remove the site's address. Download zone of their DNS servers. Fortunately, there is a solution to change the DNS on your devices that we will discuss in the next section and who will allow to unblock blocked sites.
Difficulties in visiting certain sites
I mentioned that your DNS server caches the most common queries, so you can respond to them quickly, without having to query other components of the domain name system. Your PC or Mac also has a local DNS cache. If this cache is damaged, you may have difficulty visiting some sites. Here is a problem that does not require a change of DNS server: you just need to flush your local DNS cache.
Monitoring and data collection
Unless you are using a VPN (virtual private network), your ISP's DNS servers see all the domains you request. It is impossible to escape it: if you want something on the Internet, you cannot avoid telling someone what you want. Your ISP knows where you are going on the web and probably doesn't care.
See also: Brave browser - Discover the Privacy-Concerned Browser & 21 Best Free Disposable Email Address Tools (Temporary Email)
How to change these DNS to access a blocked site?
Indeed, the simplest technical solution to block access to a server located on the Internet is to "make the DNS system lie", and in particular the DNS resolution servers of Internet service providers, made available to their subscribers. .
And this is exactly what was issued by the French ISPs to block several streaming sites, direct download, torrents, etc.
But there are a plethora of open DNS resolvers / servers on the Internet, and all you need is a very simple configuration of your computer, tablet or smartphone. to change the DNS, abroad or even in France, who will certainly allow you to unblock a blocked site.
Read also : Top +50 Best Free Streaming Sites Without an Account
How do I change my computer's DNS?
When your laptop or smartphone connects to your home Wi-Fi or a free cafe Wi-Fi, you also use the default DNS server chosen by your ISP (Orange, Free, etc.).
So, to change your computer's DNS, here are the steps to follow on Windows:
Access the network and sharing center
Right click on the Windows Start menu and click Network connections. A window opens, in which you can see the network to which you are connected, as well as your data consumption. A little below, click on Network and Sharing Center.
Show properties
In this new window, left click on Change card settings. Locate the network on which you are connected, and right click on it to access the Manufacturing . A window opens with a list of the items used to connect to the Internet.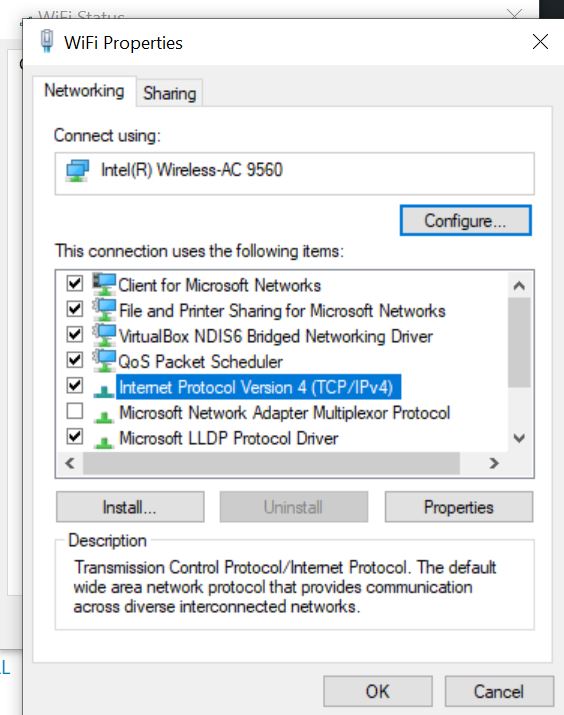 Change these DNS for IPv4
From this list, select Internet Protocol version 4 (TCP / IPv4) then click Manufacturing . Here you can change your IP and DNS servers.
Select Use the following DNS server address. Indicate 1.1.1.1 as Preferred DNS Server and 1.0.0.1 for the secondary DNS server, you can also use a DNS server from the list in the next section. Confirm with OK.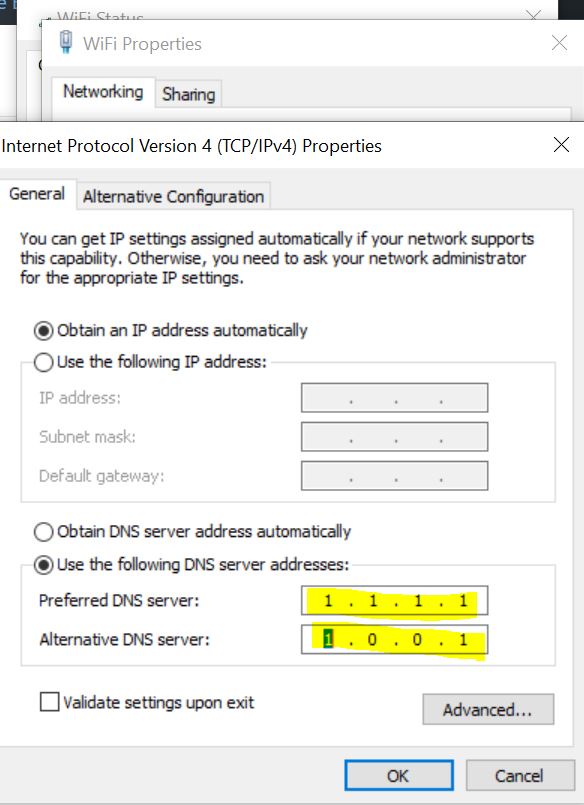 Change these DNS for IPv6
Select Internet Protocol version 6 (TCP / 1Pv6), click on Manufacturing . Select Use the following DNS server address and fill in the boxes with the following addresses: 2606:4700:4700::1111 et 2606:4700:4700::1001 Confirm with OK, then restart the computer.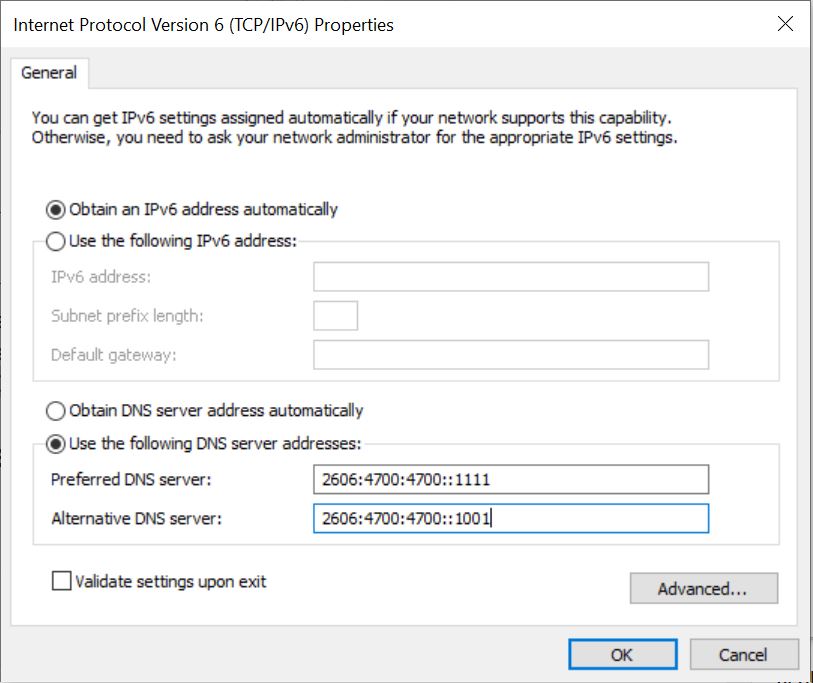 Actually, if you want to use a third-party DNS server on your devices, we recommend that you change it only on your router. This is a one-time setting, and if you change your mind and want to change your DNS server later, you can change the setting in one place.
Change the DNS of your router
If you want change the DNS of your entire home network, you have to do it on your router. All the devices on your network (computers, smartphones, tablets, game consoles, smart speakers, TV broadcast boxes, Wi-Fi light bulbs and anything else you can imagine) get their DNS server setting from the router, at unless you make an effort to change it on the device.
By default, your router uses the DNS servers of your Internet service provider. If you change your router's DNS server, all other devices on your network will use it.
To do this, access your router's web interface. The exact steps you need to take vary depending on your router. If you are not sure how to proceed, you can consult the manual or online documentation for your router model.
There you will find instructions for accessing the web interface and the default combination of username and password that you will need to log in, if you have never changed it.

Once in the web interface, you will probably find a DNS server option on one of the pages. Change it and the setting will affect your entire network. The option may be under the LAN or DHCP server settings, as the DNS server is provided via DHCP to devices that connect to your router.
If you have trouble finding this option, consult your router's manual or do a Google search for your router model and "change the DNS server".
You can override the automatic DNS server provided by your router and set a custom DNS server on each device.
See also: Best Free No-Download Football Streaming Sites & 10 Best Free and Fast DNS Servers (PC & Consoles)
Change these DNS on an Android phone or tablet
Android allows you to change DNS, but not system-wide. Each Wi-Fi network you connect to has its own settings. If you want to use the same DNS server everywhere, you will need to change it for each Wi-Fi network you connect to.
To change your DNS server, go to Settings> Wi-Fi, tap and hold the network you're connected to, and then tap "Modify the network" and advanced settings.
To change the DNS settings, press the " IP settings "And set it to" Static Instead of the default DHCP. Depending on your device, you may need to check an "Advanced" box to see this setting.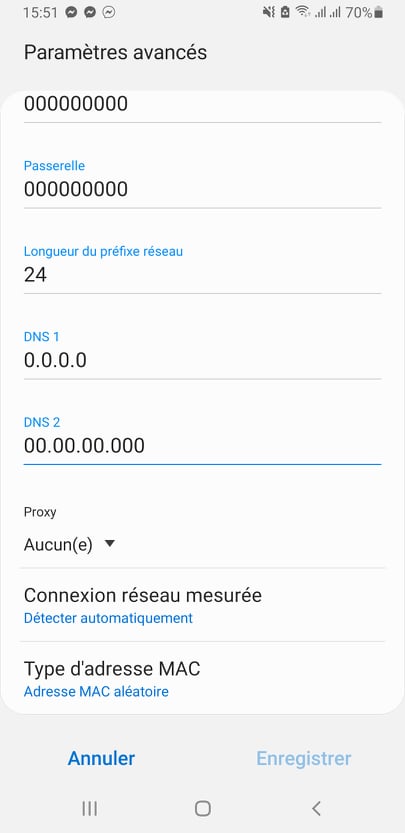 Do not touch the IP server settingbecause it is automatically acquired from the DHCP server. Enter your preferred primary and secondary DNS servers in the "DNS 1" and "DNS 2" settings, then save your settings.
Change DNS on an iPhone or iPad
Apple's iOS system allows you to change your DNS server, but you cannot set a preferred DNS server for the whole system. You can only change the DNS server for an individual Wi-Fi network according to your personalized settings. You will therefore need to do this for each Wi-Fi network you use.
To change your DNS server on an iPhone or iPad, go to Settings> Wi-Fi and press the "i" button to the right of the Wi-Fi network you want to configure. Scroll down and tap on the "Configure DNS" option under DNS.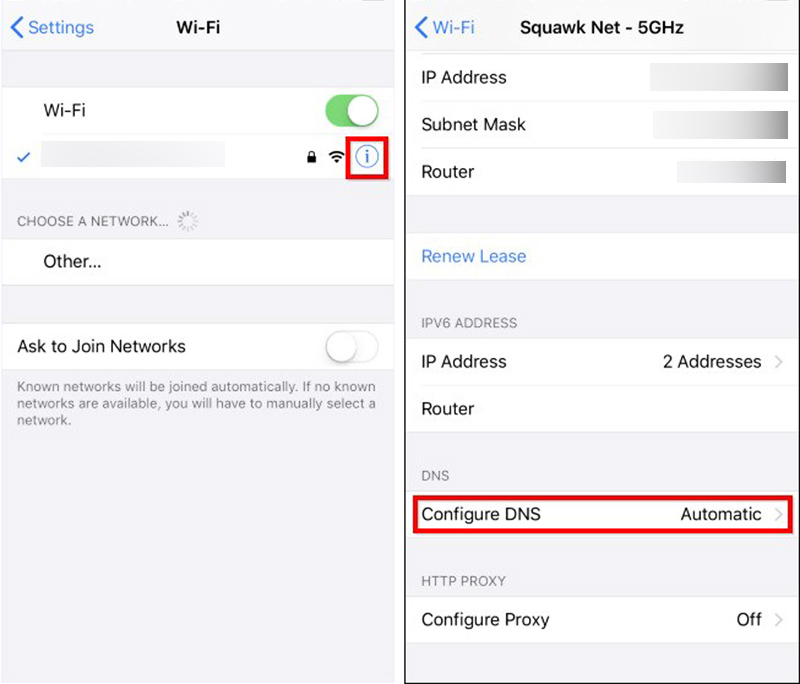 Press on " Manual And remove the DNS server addresses that you do not want to use from the list by pressing the red minus sign. Tap the green plus sign and type in the DNS server addresses you want to use. You can enter both IPv4 and IPv6 addresses in this list. Press "Save" when finished.
You can always press " Automatic Here to restore the default DNS server settings for the network.
To read : Best Free Streaming Apps to Watch Movies & Series (Android & Iphone)
Change DNS On Mac
To change the DNS server on your Mac, go to System Preferences> Network. Select the network adapter whose DNS server you want to change, such as "Wi-Fi" on the left, and then click the "Advanced" button.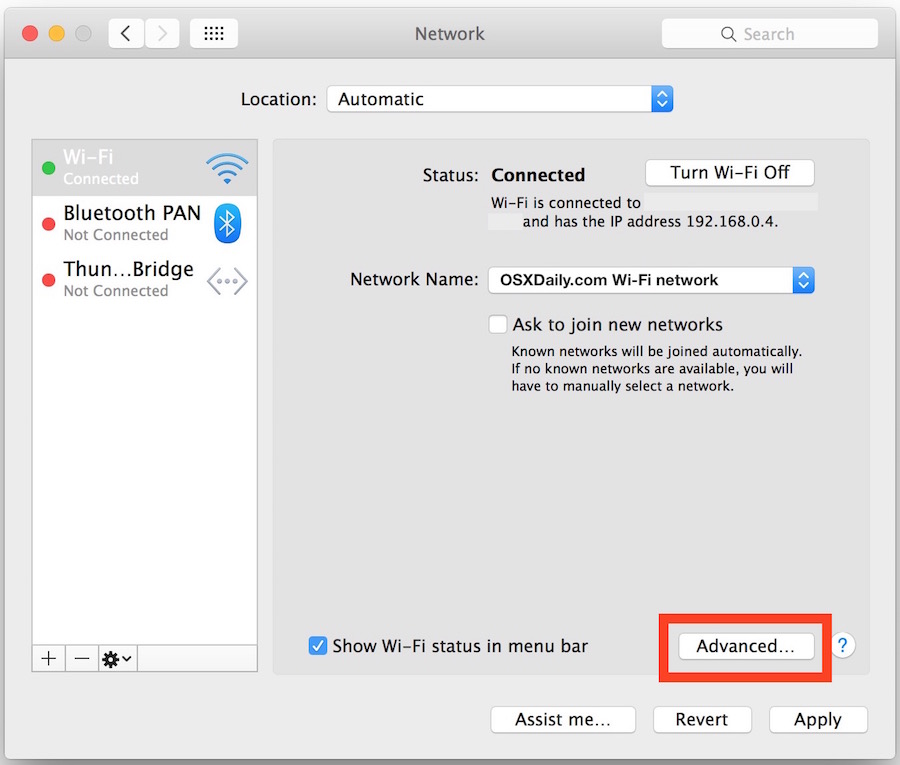 Click on the "DNS" tab and use the "DNS Servers" box to configure the DNS servers of your choice. Click the "+" button at the bottom and add IPv4 or IPv6 server addresses to the list. Click "OK" when finished.
If things don't work as expected after changing your DNS server, you can reset your DNS cache to make sure macOS is using records from the new DNS server and not results cached by a previous DNS server.
Change Orange DNS servers
Customers of Orange Internet offers often see many foreign and French websites displaying themselves with difficulty on their PC. This is a DNS problem of the French operator. To work around this problem, you must change the Orange DNS.
Whether on Mac or Windows, the maneuver is not very complicated. On Mac, just go to the menus Settings > Network > Advanced > DNS, then add their own DNS. On Windows, simply go to Network and Sharing Center then "Change adapter settings" (on the left), right-click on the network connection > Property > Internet Protocol Version 4 then fill in the boxes for preferred and alternate DNS servers.
In any case, it is possible to enter alternative DNS, such as those of Google (8.8.8.8 / 8.8.4.4), OpenDNS (208.67.222.222 / 208.67.220.220), FDN (80.67.169.12 / 80.67.169.40) or again OpenNic: (193.183.98.154 / 5.9.49.12 / 87.98.175.85). The ones from Google work perfectly.
What is the best DNS server?
DNS attacks and problems arise when DNS is not a priority for your ISP. To avoid these issues, simply switch to a service that makes DNS security and privacy a priority.
Le Google public DNS has been available for almost 10 years, with the easy-to-remember IP addresses of 8.8.8.8 and 8.8.4.4.
Google DNS servers (IPv4)
Google DNS servers (IPv6)
2001: 4860: 4860 :: 8888
2001: 4860: 4860 :: 8844
Google promises a secure DNS connection, reinforced against attacks, advantages in terms of speed as well as the possibility of unblocking a blocked site.
Founded in 2005, OpenDNS offers secure DNS for even longer. It does not have memorizable IP addresses like Google, but offers a variety of services.
208.67.222.222
208.67.220.220
In addition to DNS servers focused on privacy and security, it offers what it calls FamilyShield servers, which filter out inappropriate content.
The company also offers a premium parental control system that gives parents more precise control over filtering. Its parent company Cisco provides enterprise Cisco Umbrella, which includes security service and DNS service for enterprises.
Cloudflare may be the biggest internet company you've never heard of. Thanks to a sprawling collection of servers spread around the world, it provides websites, among other services, with Internet security and protection against distributed denial of service attacks.
Last year, Cloudflare made available secure DNS, to very memorable IP addresses of 1.1.1.1 and 1.0.0.1. More recently, the company launched a plan for its 1.1.1.1 mobile app to replace VPN protection.
« No Censorship. No Bullshit. Just DNS. The slogan of DNS.Watch has the merit of clarity.
This service promises not to save any queries, to ensure DNS neutrality by not censoring any address and to offer a fast and reliable server. DNS.Watch's business model is based solely on donations and sponsors.
the server address : 84.200.69.80
2001:1608:10:25::1c04:b12f
the server address : 84.200.70.40
2001:1608:10:25::9249:d69b
DNS.Watch has two servers based in Germany, so it offers better speeds if you're nearby. You'll have uncensored internet access, which also means there's no malware protection or ad blockers. Surprisingly, DNS.Watch does not collect any of your personal data (even for analysis purposes).
For more DNS server addresses, we invite you to consult our comparison of the 10 best DNS servers in 2022.
Alternative solution: using a VPN to unblock a blocked site
By modifying the DNS, you can bypass the restrictions requested by the courts from internet service providers. There is also another solution which has various advantages. This is the use of a VPN (or virtual private networks) as NordVPN.
These software (some free but limited) will encrypt your exchanges with the Internet and give you a new IP address. You can also request that this IP address be abroad thus bypassing local restrictions.
A simple and transparent software which places you completely safe from the wrath of Hadopi and its site blockings via your internet service provider.
If you have any problems with changing DNS you can write to us in the comments section, and don't forget to share the article on Facebook and Twitter!