Netflix Catalog July 2021: What new Netflix can I watch this month? It's a question many Netflix addicts ask themselves every month, and even every day. Indeed, Netflix constantly adds and removes content from its French and English catalog so that it is difficult to follow what is happening in the Netflix program.
Want to be alerted when the new season of The Crown is released? Want to see what's in store so you can organize yourself to watch La Casa de Papel? our Netflix catalog is made to simplify everything for you.
Knowing all the Netflix releases is a tough sport, but luckily Reviews is there. So you will find on this page the full Netflix 2021 catalog with all the new Netflix series and films updated every month and by country.
Netflix 2021 Catalog: Top New Netflix Series and Movies This Month
Like all fans of movies and series, there are two things that annoy us:
Spoilers! We hate it when social media tells us the ending and spoils the fun of major twists. We want to experience the emotions live, love, cry, tremble and be surprised as if we were there!
Not to be aware! Pop culture is our culture, so if everyone is talking about a series or a movie, we want to be informed as a priority so that we too can give our opinion ... and in the best case, recommend this novelty to our loved ones.
That's why I decided to publish the full Netflix catalog to announce to our subscribers the very fresh news and those to come so you have the possibility to discover the Netflix news this month.
Discover: Netflix Free: How to watch Netflix for free? The best methods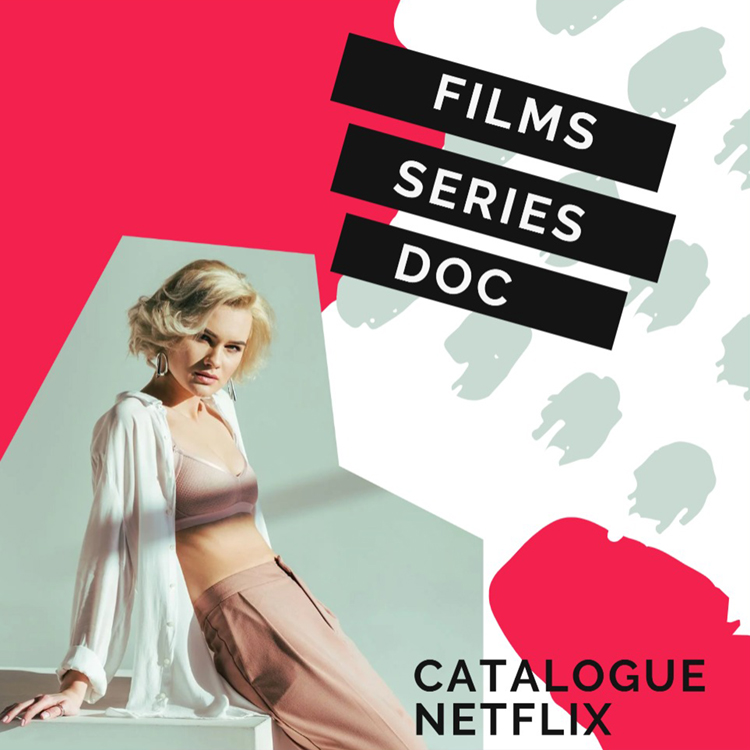 Thus, in the following Netflix July 2021 calendar you will find all areas of Netflix content such as dramas, comedies, horror films, documentaries, foreign films, originals, licensed series, and of course children's programs ... with information on each film or series, namely the broadcast date, country and availability.
Thanks to this page, you will be able to explore the entire Netflix exclusive catalog, and the new Movies and Series, and have a preview of what you will soon be able to see.
Read also : +40 Best Free Streaming Sites Without an Account & +30 Best Free Vostfr and Original Streaming Sites
New Netflix July 2021
It's another great start to the month on Netflix with some really fantastic new movies added to the US library. Some of our favorite movies are coming back, but most importantly, they're available to stream on Netflix for the very first time.
Our catalog covers several Netflix regions but mainly focuses on Netflix France, USA, UK, Canada and Australia. For these regions, we cover new weekly additions, exclusive offers, upcoming titles and we anticipate new releases and returns from Netflix Originals, as well as monthly recaps.
We invite you to discover entire Netflix 2021 catalog and discover new Netflix July 2021 :
Boogie Nights (1997) : In the 90s, Mark Whalberg was more famous for his role as Marky Mark in Marky Mark and the Funky Bunch than as an actor. Whalberg's slow transition to one of Hollywood's main actors began with his big hit in Boogie Nights.
Austin Powers: International Man of Mystery (1997): Outside of Wayne's World and Shrek, Austin Powers is arguably the most famous role comedian Mike Myers has ever performed!
Midnight Run (1988) : Robert De Niro has starred in some truly incredible films throughout his long and illustrious career, and although young audiences may know him more for his comedic roles in the 21st century, Midnight Run will always remain a shining example of how he was really a badass.
Star Trek (2009) : Since this is one of the most iconic franchises of all time, many were reserved with the idea of ​​rebooting decades of history. But JJ Abrams managed to make the latest iteration of Star Trek an incredibly fun action-adventure film that has drawn millions of new fans around the world.
The Life of David Gale (2003) : If you can get past the fact that Kevin Spacey is one of the main cast in the movie, then you definitely shouldn't be sleeping on The Life of David Gale.
Memoirs of a Geisha (2005) : Unsurprisingly, Memoirs of a Geisha, one of the most beautiful films of 2005, won three Oscars for photography, artistic direction and costumes.
6 Bullets (2012)
Air Force One (1997)
Audible (2021)
Austin Powers in Goldmember (2002)
Dreamy Eyes (2019)
Dynasty Warriors (2021)
Generation 56k (Season 1)
Hampstead (2017)
Kung Fu Panda (2008)
Kung Fu Panda 2 (2011)
Masameer County (Season 1)
Mortal Kombat (1995)
Quarantine Tales (Season 1)
Rainbow Rangers (Season 1)
Sailor Moon Crystal (Season 1-3)
Netflix Catalog June 2021
Although accuracy is the primary goal of this guide, sometimes license agreements are not made or other events occur. In these cases, we try to update all information as quickly as possible.
So this list will evolve as we discover more TV shows and movies slated for June 2021. Netflix is ​​also releasing its own list later this month.
We invite you to discover entire Netflix 2021 catalog and discover new Netflix June 2021 :
Lupine (part 2): The biggest international Netflix project of all time (so far) is back.
Hospital Playlist (Season 2) : New episodes expected each week from mid-June in the Netflix catalog.
Seinfeld (Seasons 1-9) : All episodes of '90s comedy Jerry Seinfeld in stunning 4K, are scheduled to arrive on June 25, but this is unconfirmed.
Record of Ragnarok (Season 1) :?? Animated series based on the manga series written by Shinya Umemura and Takumi Fukui.
Too Hot to Handle (Season 2) : Return of the dating show.
Ben & Holly's Little Kingdom (Season 2) : Nickelodeon Preschool Series.
Black Holes | The Edge of All We Know (2020) : Independent documentary by Peter Galison on the quest to capture the first image of a black hole.
Flipped (2010) : A romantic comedy directed by Rob Reiner about two fourth graders who fall in love with each other.
Seven Souths in the Skull Castle (Season Moon Jogen & Kagen) :?? Stage Representations of Japan is added to the Netflix catalog.
Super Monsters: Once Upon a Rhyme (2021) : New animated show for children set in the universe of Super Monsters.
CoComelon (Season 3): Another round of new episodes from one of YouTube's most watched channels.
Welcome Home (2018) : Aaron Paul and Emily Ratajkowki star in this thriller about a couple who spend a weekend at a vacation home in Italy, but find out the owner has sinister plans.
2 Hearts (2020) : romance film about two couples who meet with a hidden connection.
Alone (Season 7): Wilderness survival reality TV series where contestants get stuck and must survive in the arc.
Carnival (2021) :?? Comedy about an influencer who takes a break to find the true meaning of life with the help of a few friends.
Kim's Convenience (Season 5): The final season of the Canadian comedy series where Appa and Umma face a medical diagnosis and Janet moves home.
Alan Saldana: Locked Up (2021): Special standup and the second of this comic from Mexico.
Creator's File: GOLD (Season 1): Japanese mockumentary series with comedian Ryuji Akiyama.
Dancing Queens (2021) :?? A young girl aspires to be a dancer and gets her big break at a drag show.
Pretty Guardian Sailor Moon Eternal The Movie (2021) :?? Big scoop for Netflix worldwideanime with the acquisition of the brand new Sailor Moon title.
Summertime (Season 2) :?? A return for the Italian soap where it's summer again and we see how the relationships formed in Season 1 land a year later.
The Girl and the Gun (2019): Filipino crime thriller about a young woman who dramatically changes her life after finding a gun.
Breaking Boundaries: The Science of Our Planet (2021): David Attenborough teams up with Johan Rockstrom to study the collapse of biodiversity on Earth.
Human: The World Within (Season 1): PBS documentary series that delves into the personal stories of the incredible human body.
Sweet Tooth (Season 1) : Netflix adaptation of Jim Mickle and Beth Schwartz's DC comic book about an epic boy-deer adventure. Robert Downey Jr is executive producer.
Sweet & Sour (2021) : Based on a book, this romantic Korean film tells the story of a couple who try to make a long-distance relationship work.
Trippin 'with the Kandasamys (2021) : African comedy.
Xtremo (2021) : A violent and fast-paced action thriller about a retired hitman taking revenge.
Kitty Love: A Tribute to Cats (2021): Documentary on cats. That's all you need to know.
Awake (2021) : Sci-fi thriller set in a world where electronics are eliminated and humans lose the ability to sleep.
Fresh, Fried and Crispy (Season 1) : Daym Drops travels across America in search of the best fried food.
LA's Finest (Season 2) : The second and final (?) Season of the Bad Boys spinoff series that first aired on Spectrum.
Tragic Jungle (2021) : Period drama in Spanish about a woman who flees the Mayan jungle to escape an arranged marriage.
Camellia Sisters (2020) : Vietnamese feature film following three sisters of the royal family.
Locombians (Season 1): New episodes every week - Stand-up comedy series.
Skater Girl (2021) : A sports drama about a teenage girl from Rajasthan who discovers skateboarding.
Wish Dragon (2021) : Netflix's second major acquisition from Sony Pictures Animation in 2021, made by Chris Appelhans. A young boy follows who is visited by a dragon who grants wishes.
Elite (Season 4) :?? The return of the huge Spanish teen drama with new and fresh faces (June 18, 2021) one of the most popular titles of Netflix June 2021 new releases.
Fatherhood (2021) : Kevin Hart stars in this drama directed by Paul Weitz.
Jagame Thandhiram (2021) :?? Tamil action thriller Netflix film directed by Karthik Subbaraj.
Good on Paper (2021) : Iliza Shlesinger and Rebecca Rittenhouse star in this new romantic comedy.
The Naked Director (Season 2): One of the biggest live-action titles to release from Japan returns by continuing its adaptation of Zenra Kantoku Muranishi Toru Den in the Netflix catalog June 2021.
Sex / Life (Season 1) : Drama following a love triangle.
America: The Motion Picture (2021) : This animated feature takes a rather warped look at American history with some of your favorite celebrities playing famous historical figures.
The list of Netflix series, animes, documentaries and movies is updated weekly to add new content.

Writing Reviews
Top 10 Movies & TV Shows On Netflix For June 2021
| # | Films | Series |
| --- | --- | --- |
| 1 | Dog Gone Trouble | Lucifer |
| 2 | Home | Dirty john |
| 3 | Blue miracle | cocomelon |
| 4 | Army of the Dead | Ragnarok |
| 5 | The Mitchells vs. The Machines | The kominsky method |
| 6 | Collateral Beauty | Who Killed Sarah? |
| 7 | Flipped | Jurassic World: Camp Cretaceous |
| 8 | The Secret Life of Pets 2 | StartUp |
| 9 | Black Holes: The Edge of All We Know | The Upshaws |
| 10 | The Woman in the Window | Jupiter's Legacy |
Top 10 Netflix movies and series in June 2021
Full list of what's leaving Netflix
Titles leaving Netflix on July 1, 2021
All About Nina (2018)
Angamaly Diaries (2017)
Are You Human? (1 Season)
Arizona (2018)
Bathtubs Over Broadway (2018)
Behind the Candelabra (2013)
Black Knight: The Man Who Guards Me (1 Season)
Burn After Reading (2008)
Cappuccino (2017)
Chicken Kokkachi (2017)
Daffedar (2017)
Descendants of the Sun (1 Season)
Diana: Seven Days That Shook the World (1 Season)
Dracula Untold (2014)
Dream Big: Engineering Our World (2017)
Extras (2 Seasons)
Fate / Grand Order - First Order - (2016)
Fawlty Towers (2 Seasons)
Fight for My Way (1 Season)
Finding Mr. Right (2013)
Flowering Heart (1 Season)
Gangsta Granny (2013)
Gemini (2018)
Golden Shoes (2015)
Good Manager (1 Season)
Green Zone (2010)
Harry Enfield and Chums (2 Seasons)
Harry Enfield Presents (1 Season)
Hell Boy 2: The Golden Army (2008)
Here and Now (2018)
Hit the Top (1 Season)
Hulk (2003)
It Takes Two (1995)
It's Kind of a Funny Story (2010)
Jackass 3 (2010)
John Bishop: Supersonic Live at the Royal Albert Hall (2015)
Kaviyude Osyath (2017)
La La Land (2016)
Lady Chatterley's Lover (2015)
Little Fockers (2010)
Little Singham Bandarpur Mein Hu Ha Hu (2019)
Ma Chu Ka (2017)
Melvin Goes to Dinner (2003)
Michael (1996)
Midnight in Paris (2011)
Morning Glory (2010)
Mrs. Lowry & Sons (2019)
My Golden Life (1 Season)
Nativity 3: Dude, Where's My Donkey !? (2014)
Nitro Circus: The Movie (2012)
Orphan (2009)
Ouija Board (2014)
Our Shining Days (2017)
Paathi (2017)
Parade's End (1 Season)
Pareeth Pandaari (2017)
Paulettante Veedu (2016)
Queen for Seven Days (1 Season)
Radio Romance (1 Season)
Revolutionary Road (2008)
Road to Yesterday (2015)
RocknRolla (2008)
Russell Brand: Messiah Complex (2013)
Sarvopari Palakkaran (2017)
Saving Private Ryan (1998)
School 2017 (1 Season)
Secret (2007)
Shaun of the Dead (2004)
Sir Alex Ferguson: Secrets of Success (2015)
Smokey and the Bandit (1977)
Step Up (2006)
Step Up 4: Miami Heat (2012)
Stone Age (1 Season)
suicide (2014)
Tayo the Little Bus (2 Seasons)
Tayo the Little Bus Movie: Mission Ace (2016)
Temporary Family (2014)
The Accountant of Auschwitz (2018)
The Asterisk War (1 Season)
The Blues Brothers (1980)
The Bodyguard (2016)
The Borrowers (1997)
The Code (1 Season)
The Cold Light of Day (1996)
The Eagle (2011)
The Feels (2018)
The Golden Era (2014)
The Green Mile (1999)
The Heartbreak Kid (2007)
The Hurt Locker (2008)
The Incredible Hulk (2008)
The Job Lot (3 Seasons)
The Lake House (2006)
The Last Airbender (2010)
The Last Tree (2019)
The Legend of Michael Mishra (2016)
The Nut Job (2014)
The Secret Garden (1993)
The Stepford Wives (2004)
The Terminal (2004)
The Truman Show (1998)
Theeram (2017)
This Is Where I Leave You (2014)
Tik Tok (2016)
Titipo Titipo (2 Seasons)
Torque (2004)
Tower Heist (2011)
Vacation (2015)
Viswasapoorvam Mansoor (2017)
Wallander (4 Seasons)
Walliams & Friend (1 Season)
We, the Marines (2017)
What a Wonderful Family
White Collar (6 Seasons)
Wolf Creek 2 (2013)
You Carry Me (2015)
Zombie Dumb (2 Seasons)
The titles that left Netflix in June 2021
#Selfie (2014)
#Selfie 69 (2016)
50 First Dates (2004)
Act of Valor (2012)
All Dogs Go to Heaven (1989)
The Blair Witch Project (1999)
The Boy (2016)
BA Pass (2013)
Beauty and the Bitches (Season 1)
Black Man White Skin (2015)
Brokeback Mountain (2005)
Deliver Us from Eva (2003)
Disney's Miracle (2004)
I Now Pronounce You Chuck and Larry (2007)
Julie & Julia (2009)
K-9 (1989)
Los Heroes del Mal (2015)
Love Is a Story (2015)
Marauders (2016)
Milk (2008)
Notting Hill (1999)
National Lampoon's Christmas Vacation (1989)
Planet Hulk (2010)
Prosecuting Evil: The Extraordinary World of Ben Ferencz (2019)
Remembrance (2017)
Satan & Adam (2018)
The Blair Witch Project (1999)
The Boy (2016)
The Family (2013)
The Fear of 13 (2015)
The Help (2011)
The Pursuit of Happiness (2006)
The Scorpion King 2: Rise of a Warrior (2008)
The Scorpion King 3: Battle for Redemption (2011)
The Scorpion King 4: Quest for Power (2015)
The Show (This Is Your Death) (2017)
The Space Between Us (2016)
Singularity (2017)
Spy Time (2015)
Soul Surfer (2011)
Striptease (1996)
Waiting… (2005)
Contract (2008)
Darr Sabko Lagta Hai (2015)
Dear Dad (2016)
Dharmakshetra (2014)
I Am (2010)
Raja Rasoi Aur Anya Kahaniyan (2014)
Stories by Rabindranath Tagore (2015)
War Chhod Na Yaar (2013)
Zubaan (2015)
The 24 Hour War (2016)
Mother Goose Club (2016)
War on Everyone (2016)
A Silent Voice (2016)
Afterschool (2008)
Bangkok Bachelors (2016)
Hannibal (Seasons 1-3)
See also: Top 7 Free and Legal Streaming Sites, Filmstoon: Watch All New Movies in Full Streaming & Voirfilms: Best Sites to Watch Free VF Movies
Finally, as what is important to us is making you happy, we hope this article will fulfill the mission of allowing you to follow Netflix news every day. don't forget to share the article to encourage us!