Captvty download TV shows : The free software Cap tv ty allows you to watch andrecord live TV broadcasts very easily, but also the entire replay offer of the main French TV channels.
In this article, I share with you the complete guide to discover the Captvty application available for Windows and Mac and the tutorial to learn how to use it on to record TV shows. To try !
Captvty: Download TV Shows
Captvty is one of the pioneers of TV on PC, via the Internet. Under a slightly dated interface, it remains efficient, easy to use, and very practical.
You can use it to watch live channels, by right clicking on the channel logo in the left column. But above all, it stands out for its easy access to the full range of replay, or catch-up television, and for its digital camcorder function.
You can as well save and retrieve on your PC, as video file, as well the programs in replay than the direct. To enjoy it whenever you want, on the device of your choice, and even without an Internet connection.


Captvty allows you to watch, live and in streaming, any which channel French digital terrestrial television such as TF1, France 2, France 3, France 4, France 5, Arte, M6, NRJ12, W9, C8, BFM TV, TMC, LCP, etc.
Regarding the operation and the legal aspect of the app, Captvty queries channel websites and provides a list of videos that are freely available on those sites, just as Edge, Internet Explorer, Firefox, Chrome, Safari, Opera, or any other browser would.
Read also : Top 21 Best Sites to Download Free Movies on PC & Top 15 Best Free No-Download Football Streaming Sites
Direct and Replay: Record TV shows with Captvty
CapTvty is software for catch-up TV ("catch-up TV" or "replay"), a service offered by television channels to Internet users to watch television programs that they have missed wherever they wish to see again. .
It also has a manual download module that allows you to download certain "recalcitrant" videos. This software does not require installation on the hard drive, so it can be run directly from a USB stick.
To use Captvty 3, a click on the name of a live channel allows you to watch it with the integrated player. A contextual menu allows you to watch the channel live with an external player. A click on the Record icon allows you to start recording for half an hour.
To start watching and downloading TV shows, here are the steps to follow:
1. Open the software
On the captvty.fr website, click on Download (Zip archive) then unzip the file (right click, Extract all) and start the software with a double click. Via the icon at the top left, you access an option to directly place a URL in the format mms, rtsp, rtmp, rtmpt, rtmpe or rtmpte. Use this process to obtain a program absent from the French channels listed by Captvty.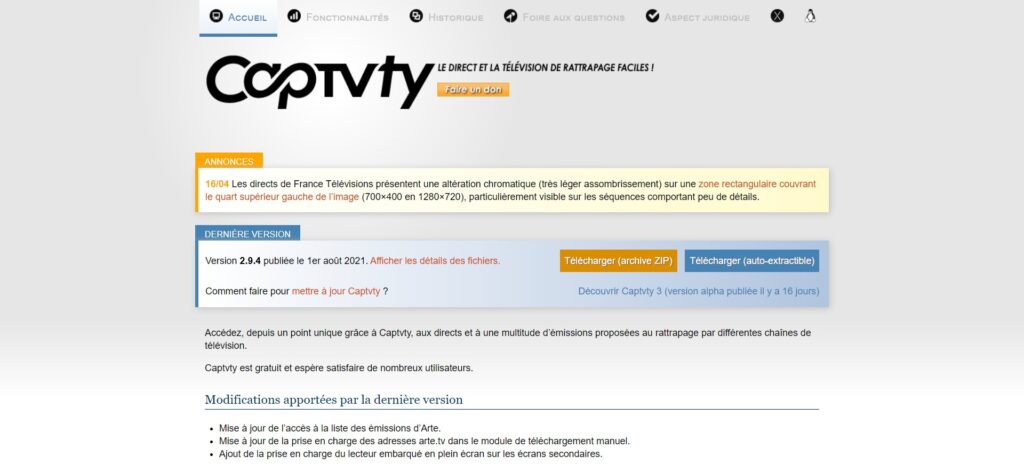 2. Choose a program from the captvty menu
Click on the desired channel in the left column. After a few seconds, a program list appears. To find what you are looking for, sort it using the drop-down menu at the top or by clicking on the column headers. For example, it is possible to choose only fiction programs, documentaries or programs broadcast at a given time.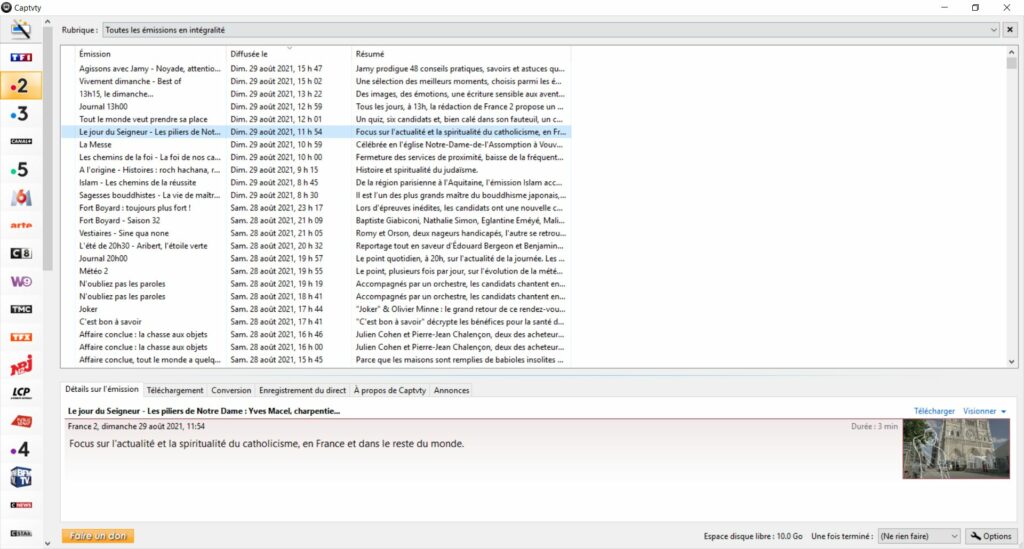 3. Watch
Details of the selected program (broadcast date, duration, etc.) are displayed in the bottom panel. To watch it, click on the Watch link on the right. By default, the software uses the built-in player to view most of the videos. It is possible to watch directly on the channel's website. Click the small arrow to the right of View.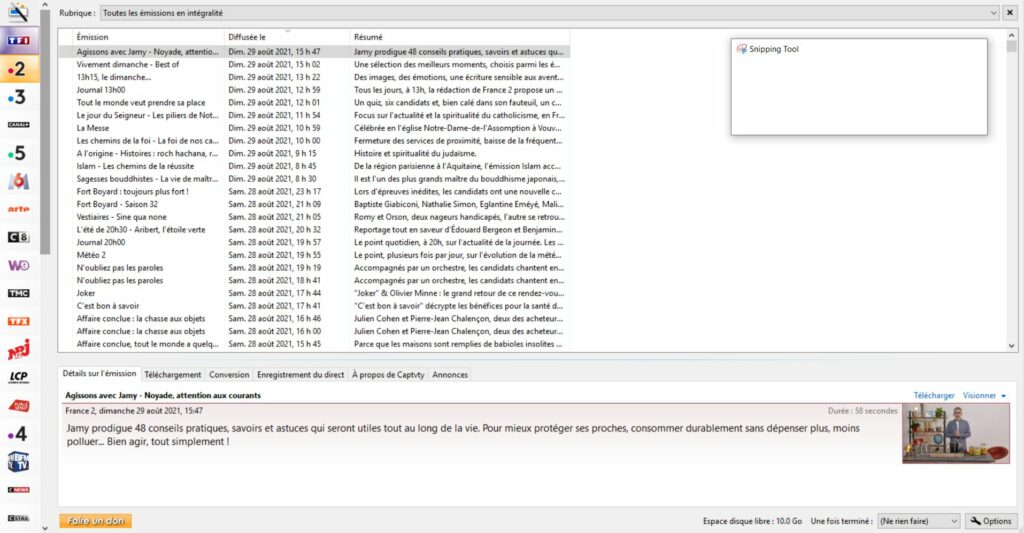 4. Download
To download the show, choose the Download link. If more than one video quality is available, you will need to check one. The files are saved in a Videos subfolder of the captvty folder, created on first use. You can change this through the Software Options (bottom right), in the Downloads and filenames section.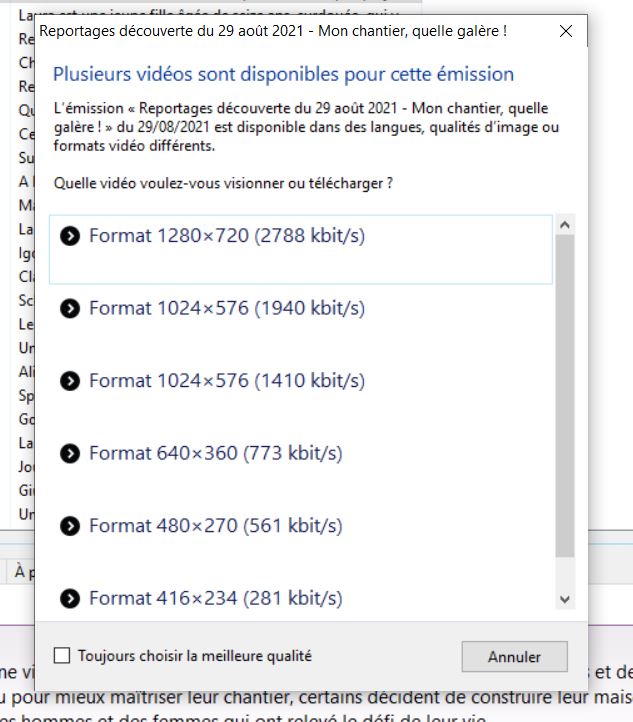 Also see: 10 Best Sites to Watch Replay TV for Free
Download Live and Replay TV shows
The world as we know it has changed a lot since the early years of television because today we no longer need to be at the exact time in front of a TV to be able to watch the last episode an television series that we follow.
As you can notice, recording a TV series or a TV show has never been easier, and to top it off, you don't have to spend a single penny on it. software that will allow you to record live TV with a PC and this thanks to the Captvty application.
In addition, all versions of Windows, since Windows 7, have a integrated video recording software. So it becomes very easy to start recording your favorite TV series for free and download TV shows freely.
Also see: Mamcin - Watch Plus Belle La Vie en Streaming Free (In Advance and Replay)
In addition, to record and download videos from several sites and not from TV channels, we invite you to discover our article on best tools to download streaming videos.
If you have any other ideas or questions on how to download TV shows with Captvty, leave a comment below and don't forget to share the article!